We're two weeks out from Bloober Team's The Medium, and the trailers are coming thick and fast. We've seen a ton of hauntingly horrific gameplay over the last few weeks, along with some in-depth behind the scenes content. We're now moving into movie territory though, with quite an impressive live-action trailer for The Medium.
Typically, live-action trailers sort of do my head in. They usually tell us nothing about the game they're trying to portray, and often appear when the team has no real game footage to show. However, it's a lot more acceptable when we've seen so much gameplay of The Medium, especially when the trailer looks this good.
The live-action video re-shoots much of what we've seen so far from pre-release footage. There's the same invisible enemy, creepy abandoned buildings, and of course, the scary kid with the bloody mask on. The trailer does a great job at showcasing the spirit world too, complete with its accurate depiction of gothic architecture.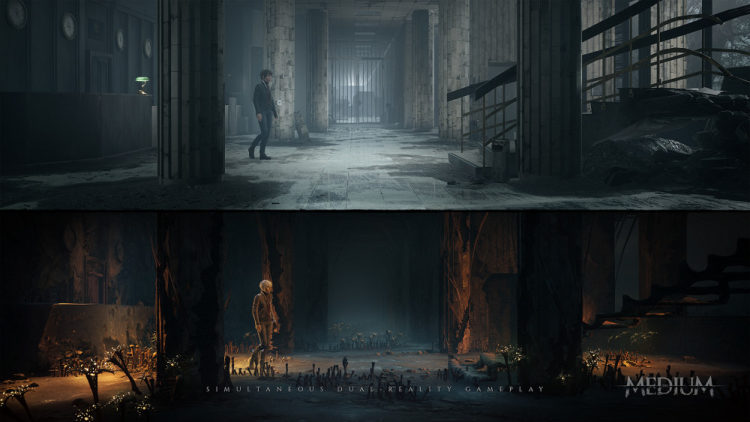 However, it's the atmosphere that's perhaps most impressive. There's shades of Silent Hill in the The Medium as it is, and that carries over to this live-action sequence. Sure the Silent Hill movie didn't live up the games it's based on, but we definitely see shades of its haunted, abandoned town here. Everything just looks so desolate in The Medium's environment, and that's been successfully carried over to this live-action piece.
Is this the real life?
Just a few days ago, Nvidia revealed more info on DLSS upgrades for a selection of titles, one of those being The Medium. It's confirmed that Bloober Team's next horror effort will contain ray tracing and Deep Learning Super Sampling (DLSS). What this should equate to is an experience on PC that looks as close to live action as we can get.
The Medium launches January 28 for PC, and it'll be included in an Xbox Game Pass subscription.