When Warhammer: Vermintide 2 launched in March, the game quickly outpaced its predecessor, selling a million copies in a short amount of time. The overwhelming support from fans as well as critical acclaim bolstered support for developer Fatshark. After all, Vermintide 2 offered a glimpse of the fast and frantic, close-combat action set in the Warhammer Fantasy Battles world during The End Times. Unfortunately, things have soured in the last few months. It seems that issues with the new Shadows over Bogenhafen DLC have also exacerbated that. Check out the trailer below.
Vermintide 2 — Shadows over Bogenhafen DLC
The Shadows over Bogenhafen DLC released earlier today. The DLC takes your Ubersreik Five to the town of Bogenhafen. Warhammer Fantasy Roleplay fans might remember this as one of the settings for an old campaign as well.
As you can see from the trailer, the backdrop of the story concerns The Blightreaper, a cursed sword handed down from one Chaos-corrupted warlord to the next. Though it has been sealed in Bogenhafen — we've no idea why Karl Franz didn't just decide to keep it in the Imperial Vaults — the followers of Nurgle still come to claim it.
For $9.99, you get the following:
Two maps — The Pit and The Blightreaper. The Pit will have you roaming around the town's dilapidated quarters filled with shanties and canals. Meanwhile, The Blightreaper map takes you through the sewers, back to the town center, and then to the High Temple. You can check out a gameplay video below from YouTuber MilkandCookiesTW.
Both maps are also available for free in Quickplay. You don't need to own the DLC to be able to play them in the mode. Likewise, if your friend already owns the DLC, you can also hop in and experience the maps yourself.
You'll also get roughly 54 weapon illusions, 15 character skins, and 15 hats — all of these are cosmetics.
Finally, you get access to Okri's Challenges and Weekly Quests. These are additional tasks you can do in the game that reward strongboxes that grant those aforementioned cosmetics.
Also worth mentioning is that Shadows over Bogenhafen coincides with the release of Patch 1.2 which is the biggest fix to date. It's also available for everyone.
However, the DLC proper does not add much in terms of content. $10 seems like a fairly odd price considering that you mostly just get cosmetics and the maps are already available in some form even if you don't own the DLC.
Warhammer: Vermintide 2 — The player base reaches a boiling point
It is worth noting what having a DLC like Shadows over Bogenhafen entails especially at this stage of the game's lifespan.
The first Vermintide game had a small yet dedicated community. Vermintide 2, meanwhile, had an influx of new players. With new players come new expectations — something that an indie studio like Fatshark tried to adjust to.
When the game initially released, there were quite a number of issues that had to be taken care of. Numerous bugs such as patrol spawns and non-working talents were criticized. Fatshark tried to provide fixes but every new patch seems to create new challenges of their own. Because of certain issues that took precedence, some features had to be pushed back — such as Sanctioned Mods — which took a while to implement.
Delays piled up until the dedicated and loyal player base slowly became agitated. Many clamored for new content — only to get Shadows over Bogenhafen. Players probably expected more than just two maps. At the same time, there were concerns due to the amount of time it took to grind for these cosmetics. For instance, the Weekly Quest requires players to finish 25 Quickplay matches. Several users on the Vermintide subreddit mentioned that they wouldn't have time for that. And because the main rewards were cosmetics only, players felt that these were not rewarding enough.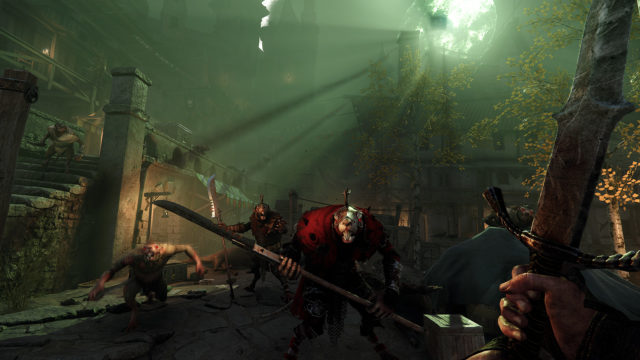 Shadows over Vermintide 2
We honestly can't say if the business model is working. Again, at first glance, Shadows over Bogenhafen seems fairly lenient. There are two maps that are available for everyone in some capacity. Cosmetic-only rewards mean that those who don't buy the DLC don't get left behind. Everything seems optional in many ways. Because of how lenient it is, it seems less like a DLC and more of a means to just support developers — like buying a game's soundtrack, artbook, or other digital add-ons which in some cases cost more than $9.99.
Unfortunately, because Vermintide 2 fans have been clamoring for more content, it takes more than just a couple of new areas and some cosmetics to get everything back on the right track. While there are those who are agitated and responded in kind, other players — such as Reddit user u/FriendlyHornet — look to offer constructive criticism to help improve the game.
In a way, Shadows over Bogenhafen is still new content for Warhammer: Vermintide 2. Unfortunately, it's not the type of content that the players expected. We're hoping that Fatshark bounces back and provides some necessary fine-tuning and tweaks.