The very first choice of any consequence you're presented with in Watch Dogs: Legion is to decide on your first operative. You'll get a selection of likely candidates to pick from, all with unique looks and perks. And for a little while, at least, they're going to be completely alone in trying to hold up the resistance.
So, who to pick? The short version, honestly, is "whoever tickles your fancy." Watch Dogs: Legion isn't the hardest game, and it won't take long before you unlock the ability to recruit more members to DedSec. I barely touched my starting character once I had some more skilled members in my crew.
That said, you can absolutely get by with anyone, because perks are just that: perks. There are only a scant few missions in the entire game that require certain perks or abilities. If you like one person just because they have a killer mohawk, then, by all means, go for them.
The long version
However, if you want this character to be a bit more useful over the long run, there are a few perks you might want to either avoid or look out for. For starters, you can avoid hackers and brawlers. You'll get a top-notch hacker after a few story missions, and people with melee fighting perks can be snagged almost immediately from the bare-knuckle brawling clubs.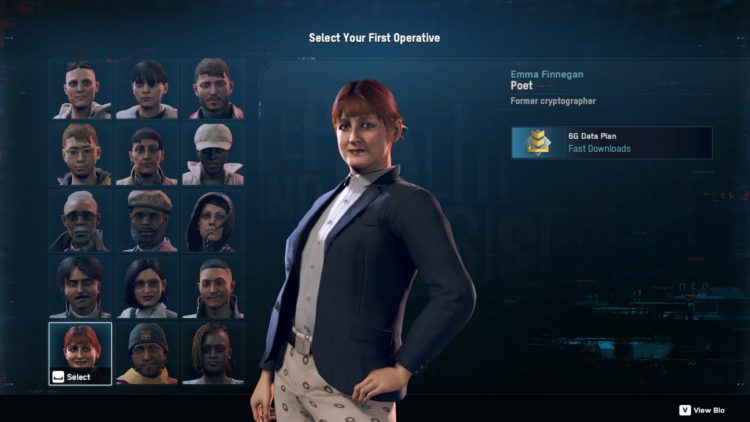 Indeed, if you're probably not going to actually use this character once you recruit some more useful ones into DedSec, the best perks are the ones that don't even require this operative to be your active character. Keep an eye out for passive perks that affect everyone like a boost to earned ETO, or a chance to spring injured or jailed operatives from the hospital or prison respectively. In the long run you'll probably end up recruiting people and leaving them at your safehouse just to have these perks, so why not start off with them?
That's the most effectual option in the long term, but as with most things in Watch Dogs: Legion, it's honestly up to you. You're not going to be missing out on anything if you pick someone who does more damage to Albion members. If you really don't like the look of a character, then don't take them. It's your choice, and that choice is very workable.
Head over to our Watch Dogs: Legion guide hub for the rest of our hints and tips on setting London free.