Zombie Army 4: Dead War launched earlier this year, bringing more zombie slaying action from developer Rebellion. While we thought the game was a bit too similar to its predecessors, support is still coming well into next year for the game. In a development update video, Rebellion has detailed what's to come for season 2 and season 3 of Zombie Army 4: Dead War.
Developed in collaboration with Flix Interactive, Season 2 of Dead War will kick off later this year on PC. Season 3 will then arrive in 2021, although more specific timing on that is yet to be revealed. Both seasons will feature new campaign missions, character skins, weapons and more, including more free content. This follows on from season 1 which has been ongoing since launch in February.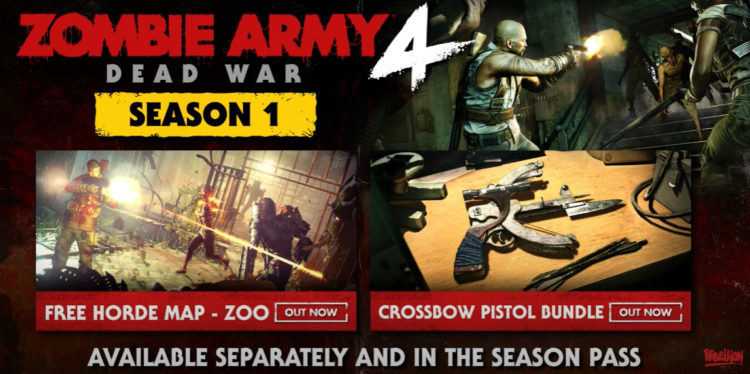 However, season 1 isn't over just yet. A free horde map titled Zoo is available right now for the current season. Some paid DLC has also dropped—a crossbow pistol weapon bundle for season pass owners. This weapon bundle is also available as a separate purchase for players who don't own the season pass.
In the development update video, Rebellion shows off a sneak peak of Zombie Army 4: Dead War season 2. Set to kick off later this year, we're treated to a glimpse at a few new hellish environments which are currently a work in progress. More details on season 2 will drop very soon, as the next season of content will be live before the year is out.
Hitler statistics
Elsewhere in the video, developer Rebellion shared a few interesting statistics on Zombie Army 4: Dead War. Since its release earlier this year, players have taken down 2 billion undead Nazis, including 50 million Hitler clones in the main campaign's grand finale. That's a lot of Nazi zombie slaying, and it'll be interesting to see the stats once season 2 and 3 are wrapped up.
Zombie Army 4: Dead War season 2 launches this year, with season 3 to follow in 2021.