The Xbox team said that there wouldn't be any major announcements during today's roundtable event between itself and Bethesda. However, that didn't mean there would be no news whatsoever. Early in the show, Sarah Bond, head of Xbox Partnerships and Ecosystem, confirmed a rumor we heard earlier in the week. Indeed, both Fallout 4 and Skyrim are heading to the Xbox Game Pass. But they won't be alone. Bond revealed that, starting tomorrow, the Xbox Game Pass will include 20 Bethesda games, and just about all of them will be playable on your PC.
Some of the games have been on Xbox Game Pass for PC. Wolfenstein: Youngblood, and Doom Eternal have been available for a time. But there are many new ones joining it starting March 12.
Most of the incoming additions won't surprise you. They consist of Bethesda's best and most famous games from the last two decades. You'll have access to the most popular games in The Elder Scrolls series, including Skyrim Special Edition, Oblivion, and, yes, even Morrowind. Doom, Doom II, Doom 64, and Doom 3 (with expansions) will join its 2019 brethren. Doom (2016), though, is mysteriously absent. Some other games on the list are The Elder Scrolls Online, The Evil Within (oddly without its sequel), and Fallout 4. Fallout: New Vegas is also on the way, but unfortunately it remains console only. And that's… kind of a bummer.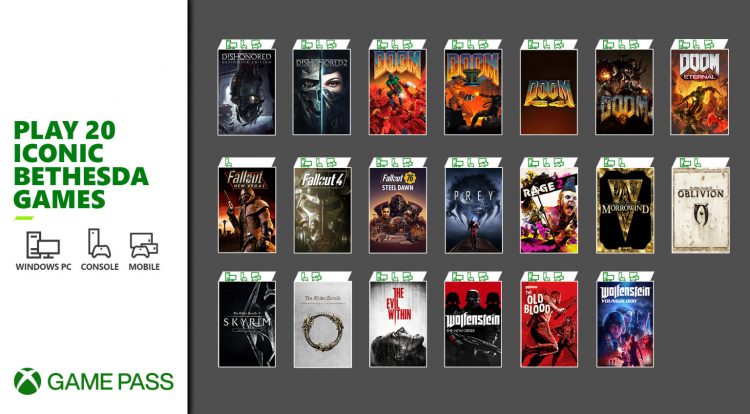 Bethesda and Xbox on the future
Of course, one of the hot topic discussions surrounding the Bethesda acquisition is that of game exclusivity. Phil Spencer, head of Xbox, briefly touched on the subject. He remarked that there will be exclusivity when it comes to Bethesda as part of the new Xbox ecosystem.
"If you're an Xbox customer, the thing I want you to know is [that] this is about delivering great exclusive games to you that ship on platforms where Game Pass exists," Spencer said.
However, not all upcoming Bethesda games will be exclusive. Spencer mentioned something about prior contracts. This means that agreements made before the acquisition will have some incoming Bethesda games on other platforms. Naturally, after this happens, you shouldn't expect games from the publisher on anything other than Xbox services.
It won't happen for some time, naturally. Until then, we'll have 20 Bethesda games on the Xbox Game Pass starting tomorrow. And many more in the future.