This month's launch of the AMD RX 6700 XT can't come fast enough. Plenty of gamers are surely counting down the days until the models hit shelves. The AIBs certainly are as well, and ASRock decided to reveal its product lineup for the RX 6700 XT today. As one might expect, there are several flavors to choose from based upon the desired cooling solution, clock speeds, and aesthetics. While we're still waiting on final clock speeds and pricing, we can draw a few conclusions from the product pages.
ASRock's versions of the RX 6700 XT shouldn't come as too much of a surprise to customers familiar with the brand. There will be the Phantom Gaming OC premium option, the Challenger PRO OC, the Challenger D, and a rebranded reference model design.
All look to share identical interfaces with three DisplayPort 1.4 ports and one HDMI 2.1 port. While another HDMI port would be ideal, this tends to be an overarching theme with the RX 6000 Series. The good news is that you'll be able to leverage the HDMI 2.1 connection to hit 360fps on older games at 1080p if you're interested. It looks like these cards might get there on a few titles with the right tweaks.
Phantom Gaming OC
The first and most obvious thing to point out is that this model comes with two aRGB features to customize. The central fan and a small LED screen can be tuned via the Polychrome SYNC software. The cool thing about this card is that you can even toggle a physical switch to turn them off if you're ever tired of the light show. This card is certainly a looker for those that like the aggressively-styled graphics cards.
Of course, all looks and no performance wouldn't be appropriate. This model should sport the highest boost clocks, and certainly has the most sophisticated cooling solution to back those frequencies up. We can't tell exactly what the heatpipe configuration is like in this unit, but it does feature triple fans, a large heatsink, and plenty of ventilation slots throughout the design. The size of this card comes in at 2.75 slots and is 305mm (12in) long. You'll want to look into some benchmarks before you choose what to buy based upon performance alone though, but ASRock generally hangs with all of the other top AIBs in terms of performance. ASRock recommends a 700W PSU for this card, which is 50W over AMD's recommendation for the reference model.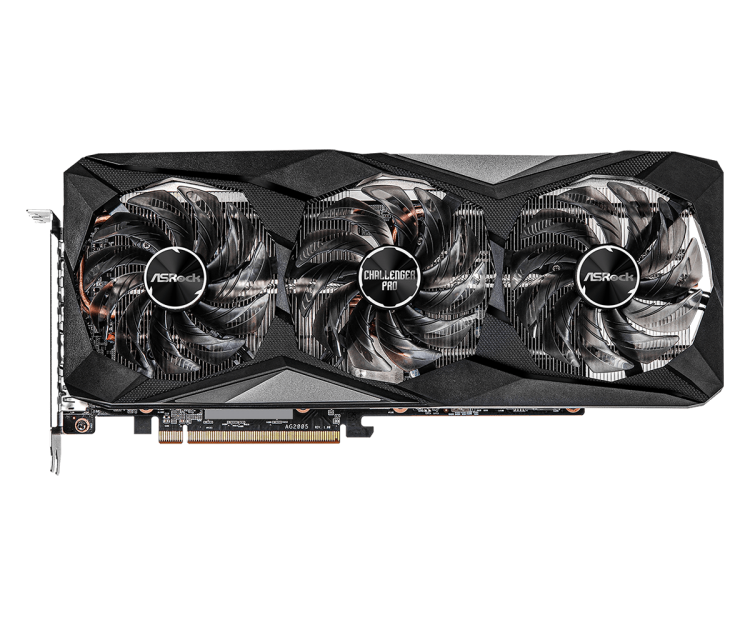 Challenger PRO OC
Stepping down one level, we have the Challenger PRO OC. There's a lot less to ogle at on this model, but it does still maintain a sleek, low profile appearance. If you're looking for OC performance without the premium pricing of the Phantom Gaming model, this will likely be your best bet. While we don't know the exact OC numbers, it does still come with the same 700W PSU recommendation like the Phantom Gaming OC. It also features the same triple fan design, albeit with a more standard cooler. If you don't mind the partially visible copper heat pipes, it's still quite a good looking product. Bear in mind that this one is also 303mm (~12in) long, but it's just a 2-slot design.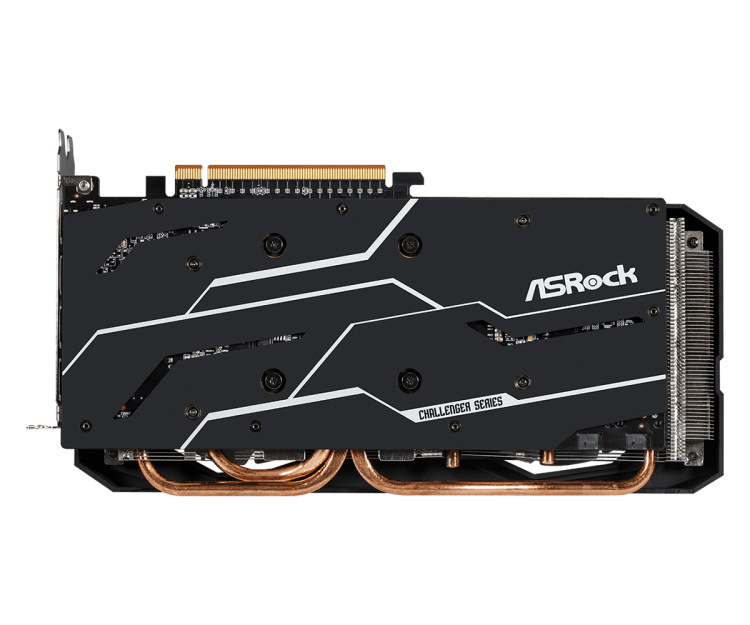 Challenger D
The entry level option doesn't say anything about an OC, but it will likely perform better than the reference cooler design. That makes this worth considering if you just want something basic. The Challenger D features two fans on a smaller cooler and comes in at just 269mm (10.6in) in length. You'll still need to account for two slots of space in your build. Another thing to keep in mind with this version is that the copper heat pipes are quite visible. That means this might not be the best option for a showcase PC, but it certainly will still perform.
With an MSRP of $480 USD, we can only hope that ASRock manages to come close in pricing. These graphics cards should go on sale on March 18.