We've seen plenty on the new Assassin's Creed over the last few months, ahead of launch on November 10. This year's Assassin's Creed Valhalla takes us to Viking-era England, to live out the fantasy of a Viking raider. While the new setting enables massive all-out melee action, it is a more muted look compared to 2018's Assassin's Creed Odyssey. It's still a beautiful landscape though, and Ubisoft has again showcased the Viking vibes it's going for with a new cinematic TV ad.
Eivor arrives at the shores of England with one goal. To settle on new, fertile lands. This being the Viking age though, that comes with some collateral damage and the trailer takes little time showing that off. Our protagonist is met by Saxon warriors, and the fighting begins before Eivor can get a proper lay of the land. Once he's pillaged his first settlement though, we get a sneak peak at the English landscape. We're definitely looking forward to taking over some beautiful English forts and castles.
The cinematic trailer showcases the same visual language as all the gameplay we've seen so far. It was created in collaboration with DDB PARIS, a PR agency based in Paris, France. It certainly nails the look of a rural, Viking era England where the Danes have arrived to stake their claim.
New lands
Speaking of Paris, earlier this month, Ubisoft detailed its post launch plans for Assassin's Creed Valhalla. The team is set to deliver two substantial expansions in 2021, alongside a suite of free seasonal content and a season pass exclusive mission. The latter of the two expansions takes us to the famous siege of Paris, where a massive Viking battle occurred. This could be the highlight of the DLC season for Valhalla. After all, Ubisoft knows a thing or two about recreating historical French locales.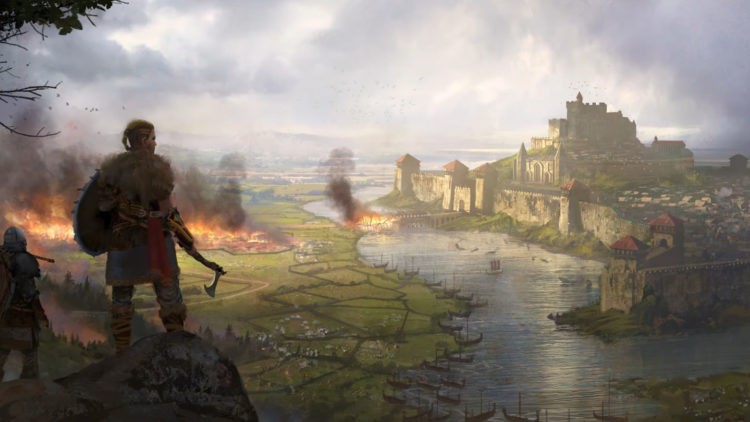 Assassin's Creed Valhalla brings a Viking adventure to PC on November 10.