In the first Cat Quest, the water-walking skill allowed your hero to cross vast bodies of water to find secrets. Don't worry, because it's still present in Cat Quest 2. This mini-guide takes a look at how you can start walking on water with this particular Royal Art (that's just a fancy name for passive abilities that your characters have).
Note: You can also check out our official review of Cat Quest 2 for PC. Of course, we've also got our guides and features hub to help you out with other concerns.
Cat Quest 2 – Walking on water
Obtaining the water-walking skill is tied to Cat Quest 2's main quest. As you continue to progress through the game's story, you'll eventually be told that you need to reach an island. There's no way to get there unless you're able to walk on water.
Kirry does have an idea, and you're told to head to Pawt City. It's all the way to the northwest section of Felingard. Do note that you should be around level 45-50 when you do this part just to make things easier. If you need help leveling up, head over to our Cat Quest 2 leveling mini-guide.
Anyway, once you speak to the Governor of Pawt City, you're told that you need to collect pages. Follow the trail and fight some mobs to obtain these pages.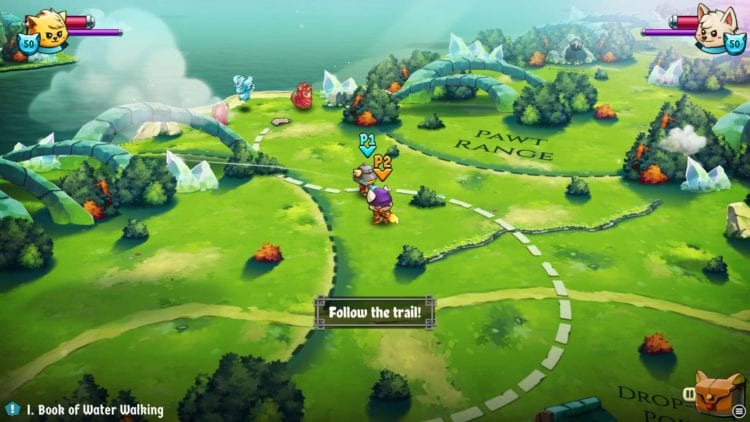 The next step will have you chasing after the final page which keeps teleporting. It'll lead you to a cave and a fairly short dungeon romp.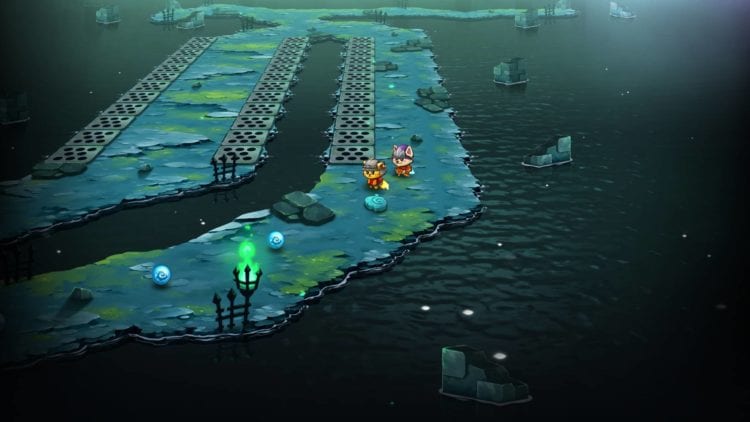 Once you're done, the Governor will create a portal. Be sure to save first.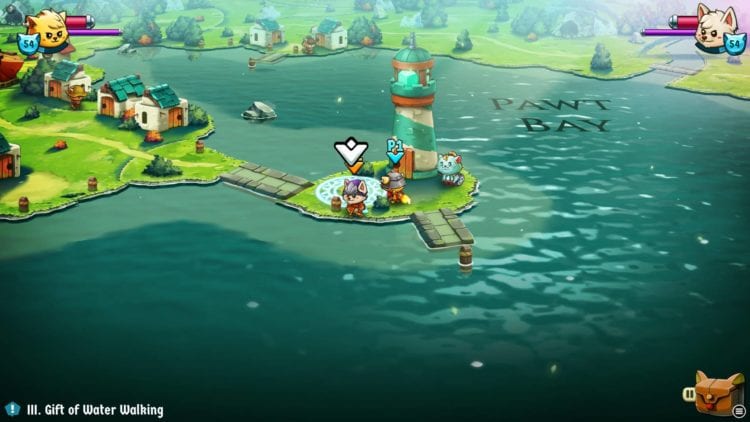 Inside this new realm, you'll be challenged by the First Governor of Pawt City. The first fight is against a stone guardian and those arcane floaters.
The second fight is against the First Governor. He hits hard, but most of his attacks can be easily avoided.
Once you're done with this fight, just speak to the two NPCs and you're done. Congratulations! You can now walk on water in Cat Quest 2.
With the water-walking Royal Art, you can now head to Pawt Cave at the nearby island to continue the game's story.
Alternatively, you can start looking for those Golden Chests that are in the middle of the ocean. You won't be able to open these yet until you have the Golden Key, so head over to our other mini-guide for more info on how to obtain these endgame rewards.
---
We hope this mini-guide helps you out in obtaining Cat Quest 2's water-walking skill. Cat Quest 2 releases today, September 24. If you're interested in checking it out, then head over to its Steam store page. As usual, we have our guides and features hub to keep you covered.