When Ubisoft's For Honor released last year, the hype died about as fast as a samurai getting chopped by a broadsword. When we covered the game in our technical review on launch day, we already knew how problematic P2P swashbuckling can be. From there, things got worse for Ubisoft's battler predominantly due to connection and matchmaking issues. Although the studio tried its best to improve the game, the player base slowly dwindled and it looked like all hope was lost. Until recently, that is. With For Honor becoming free-to-own via Steam, everyone was eager to get medieval with its player base peaking at over 216,000 players earlier today.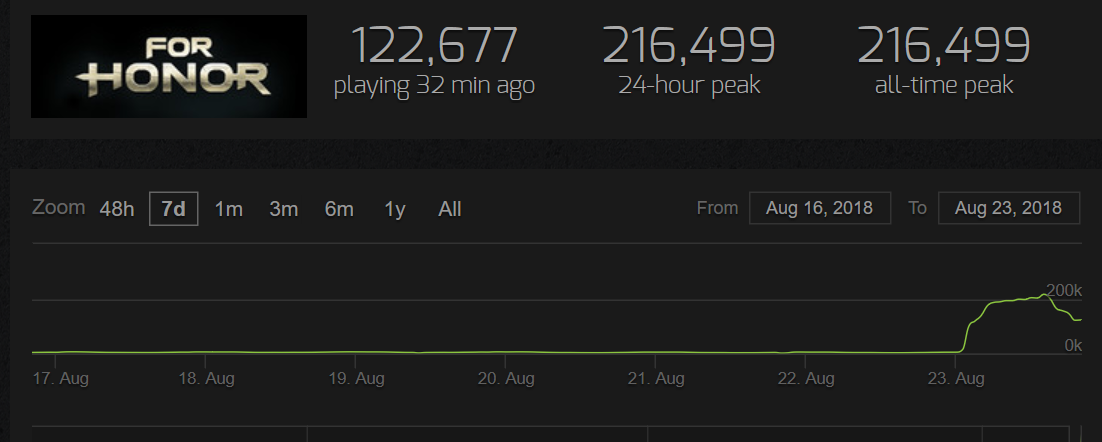 For Honor on Steam — from a loyal few to hundreds of thousands
Take a look at For Honor on the Steam Charts. Becoming free-to-own has definitely led to an influx of gladiators and combatants. It's not just a random free weekend but a chance to own the base game forever. From middling numbers in late-2017 and early-2018, we suddenly had 216,499 players today. That one guy probably tried to launch the game the moment someone went offline. Otherwise, it would've been an even 216,500.
Those numbers are pretty telling given that For Honor on Steam was essentially on life support and yet gameplay changes, reworks, future updates and business decisions made the game more vibrant. As of this writing, the game has more than 120,000 concurrent players. That's good enough to be in the top 5 most played games on Steam right now. It's just behind giants like PUBG, Counter-Strike, Dota 2, and Monster Hunter: World. However, it's well ahead of Rainbow Six Siege, Grand Theft Auto V, and Warframe.
Please note that it's only For Honor's Starter Edition that's free-to-own on Steam. You only get a handful of playable classes to choose from. The rest need to be unlocked for 8,000 steel each. That's around 8 to 15 hours of playtime. It's a bit grindy, but it should kick things off on the right foot. Also, this is a limited time promotion which lasts until August 27. If ever you were interested in the game before, now's the time to grab it.