Your journey in Teyvat is fraught with many dangers, but your companions will help you along the way. Still, it's worth knowing which ones are actually viable in the long run versus those that won't offer you a lot of synergies. Here's our characters guide and tier list to help you out.
Note: For more information, check out our Genshin Impact guides and features hub.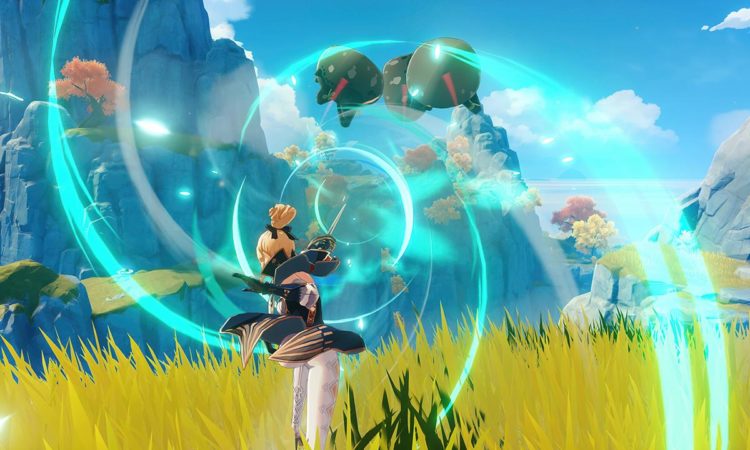 Genshin Impact: Characters guide and tier list
For the sake of clarity, it's best to be familiar with Genshin Impact's combat mechanics and microtransactions first. The former is so that you're aware of elemental combos. You can learn more via our combat and elemental effects guide.
The latter, meanwhile, is because a vast majority of the companions you obtain in the game come from Wishes. You can read more in our microtransactions and Wishes guide. In any case, once you've familiarized yourself with these concepts, it's time to discuss the game's characters.
Starting party
Your main character in Genshin Impact is the Traveler. Regardless of the gender you choose, the Traveler will use Anemo (wind) spells. However, you can switch to the Geo (earth) spells once you've interacted with a Statue of the Seven in the Liyue region. If you want to swap back to Anemo, you'll simply need to interact with a Statue of the Seven in Mondstadt.
Anyway, as you progress in the early-game, you'll get to meet three additional companions: Amber (Pyro/fire), Kaeya (Cryo/ice), and Lisa (Electro/lightning). While they're viable in their own right, they're far from being the most ideal characters in the campaign.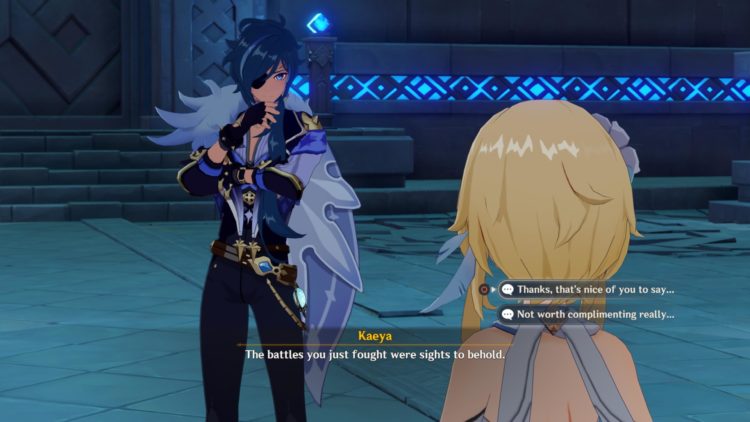 You can check a tier list such as the one in Genshin.gg. Alternatively, you can view discussions in Genshin Impact's subreddit, like the tier lists made by Redditors __robin__ and Joeyoungfitz. You'll notice that Lisa is a decent choice, but Kaeya is nowhere close to the top. As for Amber, well, she's a terrible character (unless you're planning on activating fire-based puzzles and switches).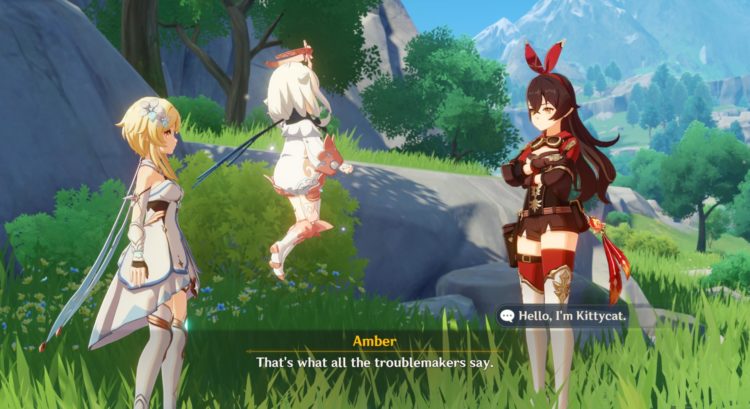 Additional characters
There are three more characters that can be considered "free." They are Noelle, Xiangling, and Barbara. The former is actually part of a Wish microtransaction, the "Beginner's Wish." However, she's a guaranteed reward and you get the currencies for this Wish via your mail.
Xiangling, meanwhile, is a reward once you do your first Spiral Abyss dungeon run — you need to reach floor 3 – chamber 3. Lastly, Barbara is a freebie if you're able to reach Adventure Rank 20 before Genshin Impact's patch 1.1. goes live.
Note: You can learn more about the above mechanics in our guides related to unlockable rewards, Adventure Ranks, and the Spiral Abyss dungeon.
Dear Travelers,

The Barbara's Shining Debut event will begin right after official release!

All Travelers who create an account and reach Adventure Rank 20 before Version 1.1 goes live will receive "Shining Idol" Barbara (Hydro) via in-game message.#GenshinImpact pic.twitter.com/G8OdVHNZp7

— Paimon (@GenshinImpact) September 26, 2020
The "gacha" characters
To be frank, it's possible to enjoy your journey in Genshin Impact without spending any money. You might even get lucky with some new characters by buying fate currencies using only Primogems. However, because of the purely luck and RNG-based "gacha" system, you might not even get the ones you want.
In my case, I've spent roughly $120 USD already and I still haven't gotten Jean or Diluc. I kept getting duplicates of items and characters, too, which has gotten really annoying. So, as much as possible, avoid spending if you can. If you truly enjoy the game and you want to get a leg up thanks to better characters, try not to go overboard because it's also very wasteful.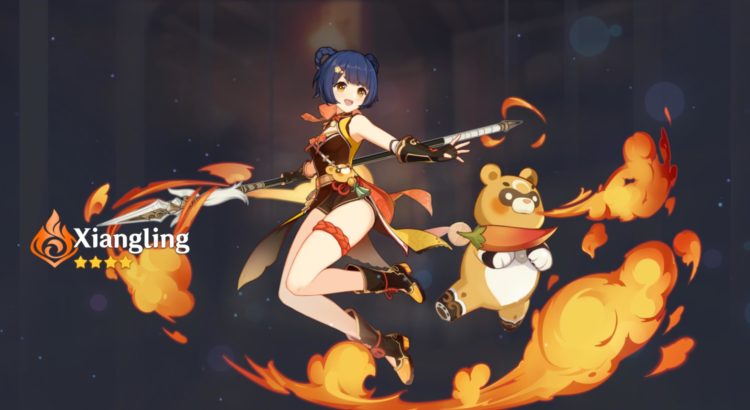 Additionally, you can mostly rely on Genshin Impact's "4-star" and "5-star" ratings via the microtransaction/Wish details. If someone is considered a 5-star character, it's likely that they're extremely viable for most high-end content. 4-star characters, meanwhile, are fairly decent.
In any case, let's move forward and discuss Genshin Impact's character rankings. For the record, I'll only cite those that I've personally tested based on various setups. The only exception is Diluc since the community considers him an absolute powerhouse.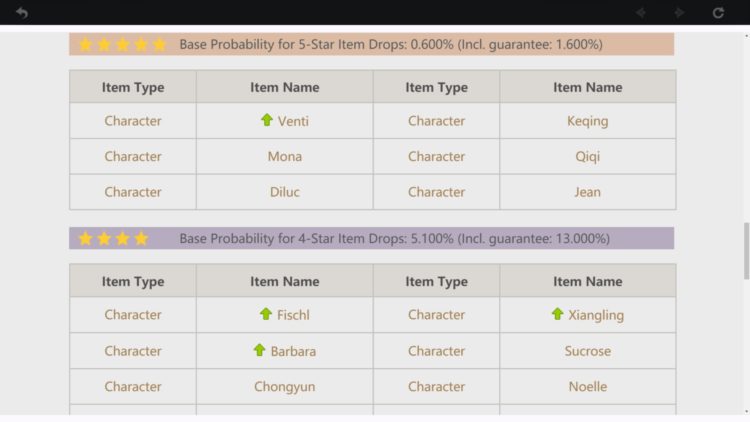 Character rankings
Venti
Element: Anemo
Weapon: Bow
Rating: S
Venti has become a mainstay of my Genshin Impact squad after I obtained him from the "Ballad of Goblets" Wish. His elemental skill has a large radius already which means multiple status effects can spread to more mobs that get hit.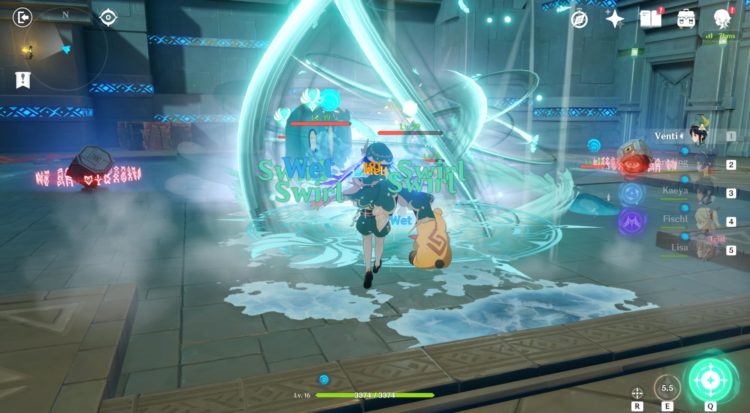 Fischl
Element: Electro
Weapon: Bow
Rating: S
Fischl is the reason why you won't use another Electro-based companion. Her bow attacks, like Venti's, are ridiculously fast. Her elemental skill which summons a raven also casts additional Electro sparks that can help trigger combos. Her burst, meanwhile, turns her into a raven that damages nearby foes. It also resets the elemental skill's cooldown if it was just used recently.
Diluc
Element: Pyro
Weapon: Claymore
Rating: S
I'm adding Diluc here even though I haven't gotten him yet via a Wish. It's because he's a 5-star reward, and the Genshin Impact community considers him one of the best characters in the game. He tends to top community-made tier lists too. You do get to try him out for one quest, and it's easy to tell that he's got devastating abilities.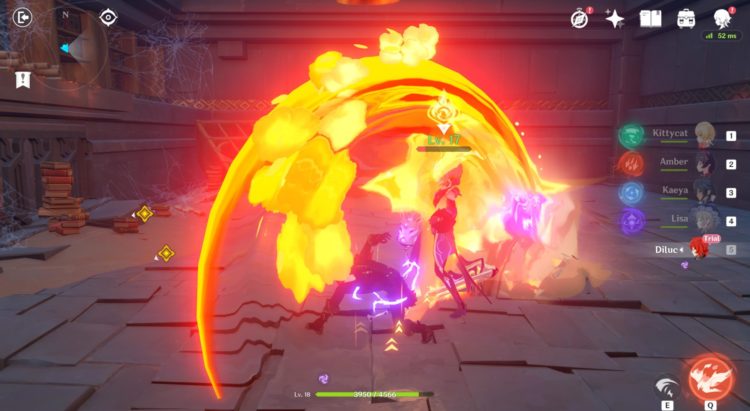 Xiangling
Element: Pyro
Weapon: Polearm
Rating: A
I love using Xiangling because, unlike Amber, the fire attacks from her stuff toy/elemental skill get spewed out several times like a flamethrower. Her regular attacks are quite fast, and her burst super rips apart surrounding enemies with a burning sickle.
Barbara
Element: Hydro
Weapon: Catalyst
Rating: A
What makes Barbara amazing is that she's likely the first healer companion you'll obtain in Genshin Impact. Well, as long as you hit Adventure Rank 20 before patch 1.1. goes live, that is. Her elemental skill heals teammates if you swap to them while it's active. It can also be used to heal co-op buddies via her normal attacks (more HP gets healed if you charge her normal attack first).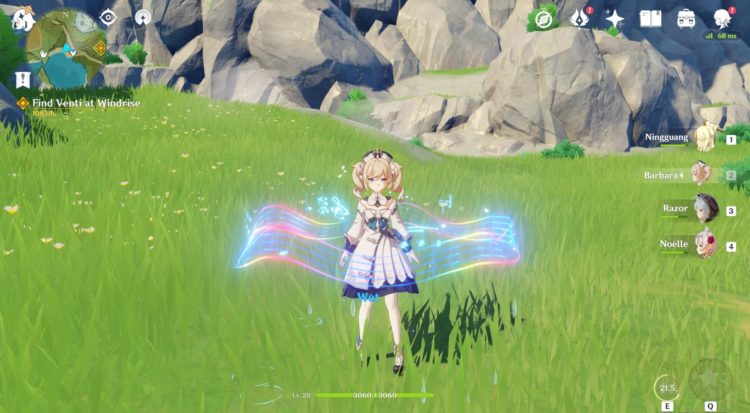 Mona
Element: Hydro
Weapon: Catalyst
Rating: A
Mona is actually quite good. Her elemental skill summons a stuff toy that taunts nearby enemies. However, it also pulses with Hydro damage while it's active. This ensures that Hydro effects are applied to targets and you can further chain combos with other elements. Compare this to Amber's own elemental skill that can also taunt, and it's night and day. Plus, her elemental burst applies a debuff to mobs that makes them take more damage.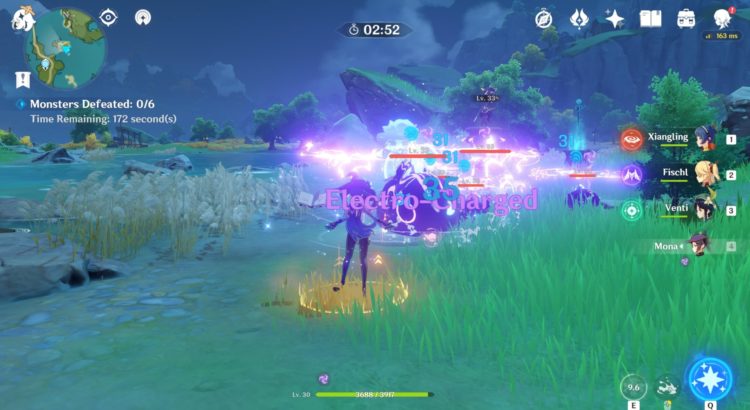 Traveler (Anemo)

Element: Starts with Anemo; can switch between Anemo and Geo
Weapon: Sword
Rating: B
The Traveler is still fairly decent, especially during Genshin Impact's early-game experience. Once you've obtained Venti, though, the Traveler will get woefully outclassed. That's because her elemental skill only fires in a straight direction, and it'll likely miss a lot of mobs that should've gotten affected by "Swirl."
You can freely swap out your main character in favor of someone else, and this is totally fine. Storyline quests will progress normally and the Traveler will still appear in cutscenes. Be forewarned, however, that the Stormterror boss fight does make you use the Traveler during a particular phase, so you might want to level up a bit.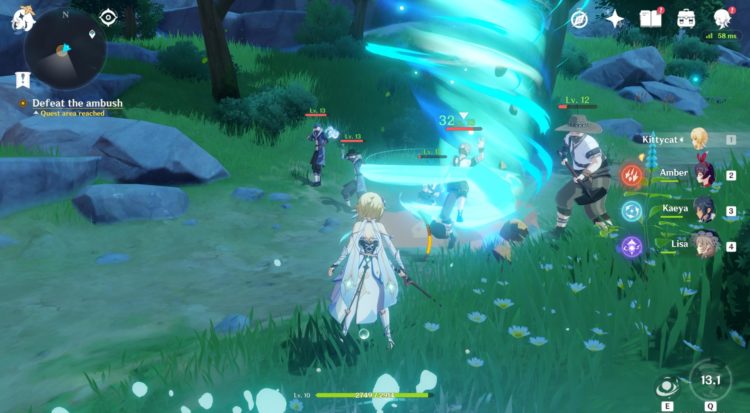 Lisa
Element: Electro
Weapon: Catalyst
Rating: B
Lisa is actually decent. Both her elemental skill and elemental burst attacks hit multiple targets (the former can even be charged to do more damage). Sadly, she's no match for an Electro-based character like Fischl.
Razor
Element: Electro
Weapon: Claymore
Rating: B
I haven't used Razor that much since Fischl has been my go-to lightning zapper. From a short run, I found him fairly decent. His elemental skill manages to hit several targets if you charge it, and his burst super is okay too.
Kaeya
Element: Cryo
Weapon: Sword
Rating: C
Kaeya is okay at the start of your journey, but there are better choices if the RNG gods manage to bless you. Like the Traveler, his elemental skill is only a frontal attack. You're not likely to freeze or hit a lot of hostiles if they're further apart. At least his elemental burst affects lots of mobs.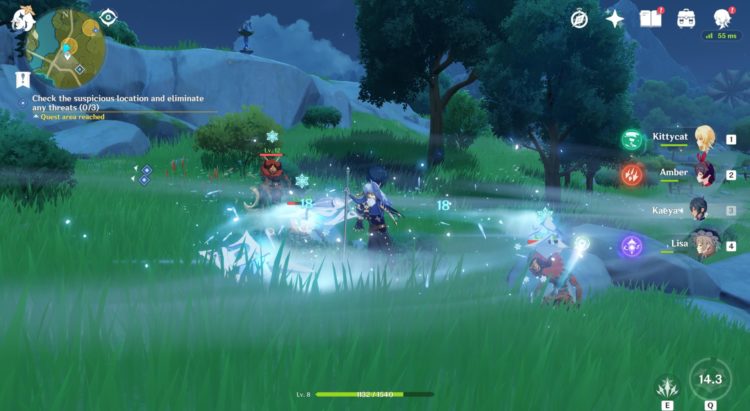 Noelle
Element: Geo
Weapon: Claymore
Rating: C
With the right items, Noelle can be an absolute tank thanks to her elemental skill since it creates a barrier that can soak enemy attacks. The downside is that Genshin Impact relies more on speedy offense, combos, and nukes, and not purely defensive capabilities. This makes Noelle an unnecessary addition to your party.
Ningguang
Element: Geo
Weapon: Catalyst
Rating: C
I had a hard time adjusting my party's composition with Ningguang around. The Geo element is primarily for defense, and her skill doesn't necessarily cause a lot of combos to proc. At best, it's used as a screen to block projectiles, but that's it. At least her elemental burst super is okay.
Sucrose
Element: Anemo
Weapon: Catalyst
Rating: C
Sucrose wasn't someone I prioritized. Like Venti, her elemental skill has a large enough radius to spread status effects via "Swirl." Unlike Venti, you can't charge it for deadlier damage. Oh, and her normal attacks are also painfully slow.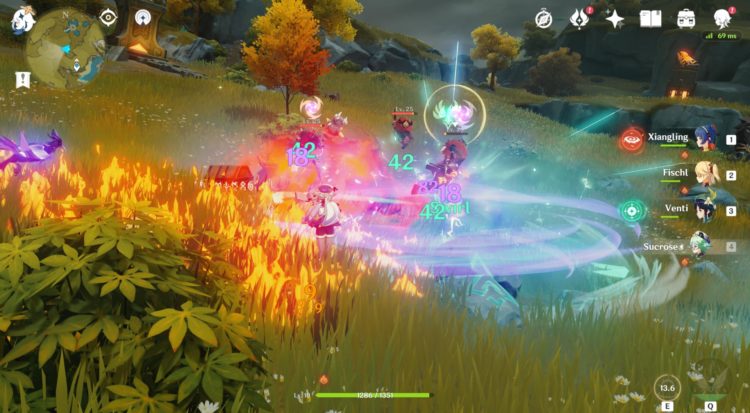 Amber
Element: Pyro
Weapon: Bow
Rating: D
Although Amber is your first ranged combatant in Genshin Impact, and you can pick off opponents at a distance with ease, she's still plainly terrible. Her elemental skill where she throws her stuff toy takes too long to explode, making her unwieldy for most encounters. Even if it does taunt nearby mobs, that delay between the skill's usage and eventual explosion can ruin your timing especially when you're attempting to chain elemental effects. She tends to appear at the very bottom of most tier lists and recommendations.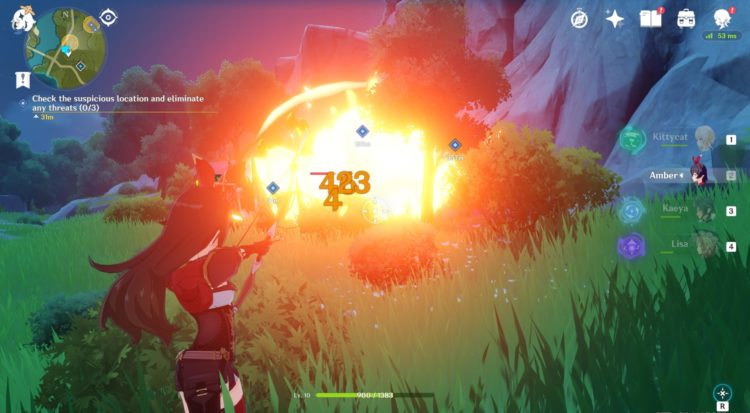 Anyway, that does it for our character ratings guide. I haven't obtained several of those who are currently available, and I definitely don't plan on spending more cash anytime soon just to evaluate them. Still, if I get lucky with future Wishes (using Primogem-bought fates), I'll update this guide once I've acquired new companions.
---
Genshin Impact is available via its official website. For more information, check out our guides and features hub.