Genshin Impact is a brand new, open-world adventure RPG from miHoYo. While it is a free-to-play title, it does have a lot of microtransactions and "gacha" mechanics — things that'll probably cause you some concerns.
Still, you could continue onwards with the journey without spending a dime, although be forewarned that it can be quite grindy and tedious. In any case, here's our guides and features hub to help you out.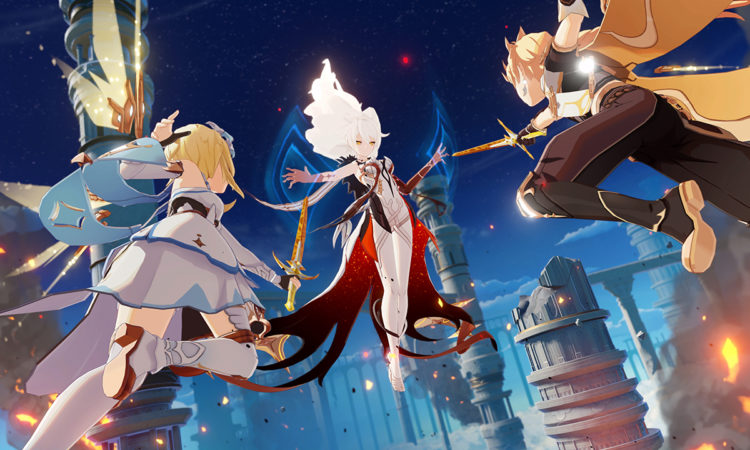 Genshin Impact: Guides and features hub
Features and starter guides
The anti-cheat problem – Genshin Impact had an extremely aggressive anti-cheat software that continued to run even after the game was closed. Thankfully, it seems to have been tweaked after fan backlash.
Beginner's guide and exploration tips – You're probably just starting your adventure in Genshin Impact's world of Tevyat. Here are some tips for newbie adventurers.
Early-game quests – Here are some early-game quests in Genshin Impact.
Character leveling and EXP Boosts – As is the case in adventure games and RPGs, you're going to have to increase the level of your characters. We tell you the basics concepts here.
Adventure Ranks – There are several factors to take note of while you're leveling in the campaign. It's not just the level of your characters, but also your Adventure Rank which opens up more quests to progress the story.
Adventure Rank Ascension Quest – Your Adventure Rank also has a cap, and you'll need to ascend it to pass a threshold.
Cooking and healing items – Cooking will become an important fixture during your journey since it becomes a primary method of healing.
Crafting and forging – Perhaps you want to level-up your weapons too. Here are some tips.
Artifact enhancement and increasing your DPS – You'll want to enhance your Artifacts to gain damage boosts.
Combat and elemental abilities – Every character in the game has their own abilities and elemental focus. Likewise, there are additional procs whenever you chain elemental status effects.
Character guides
Characters guide and ratings – After learning about elemental combat, it's time to find out which characters are the best of the best in Genshin Impact.
Xiangling guide – Here's our mini-guide regarding Xiangling's weapons, artifacts, and talents.
Fischl guide – Here's our mini-guide regarding Fischl's weapons, artifacts, and talents.
Venti guide – Here's our mini-guide regarding Venti's weapons, artifacts, and talents.
Barbara guide – Here's our mini-guide regarding Barbara's weapons, artifacts, and talents.
Qiqi guide – Here's our mini-guide regarding Qiqi's weapons, artifacts, and talents.
Childe/Tartaglia guide – Here's our mini-guide regarding Tartaglia's weapons, artifacts, and talents.
Albedo guide – Here's our mini-guide regarding Albedo's weapons, artifacts, and talents.
Ganyu guide – Here's our mini-guide regarding Ganyu's weapons, artifacts, and talents.
Xiangling's Ascension material – Spice up your life, and Xiangling's Ascension process, with some Jueyun Chili.
Fischl's and Diluc's Ascension material – Here's where you'll find Small Lamp Grass.
Barbara's, Klee's, and Mona's Ascension material – Philanemo Mushrooms can be hard to find.
Qiqi's and Xinyan's Ascension material – Let's go farming for Violetgrass.
Encounter guides
Progression and unlockables – There are several menus and panels for you to look into while you're progressing through the campaign. Many of these provide additional rewards that would aid you down the line.
Daily reset and daily activities schedule – If you want to settle on a comfier schedule while playing Genshin Impact, here are some tips.
Ley Line Outcrops, Domains, and Elites – These activities can help you progress further, but they'll use up your Original Resin if you plan on opening chests.
Abyssal Domains – Artifacts, weapon ascension materials, and items for leveling talents are up for grabs when you farm these dungeons.
Reputation rewards and Condensed Resin – It's imperative that you increase your reputation in Monstadt and Liyue if you want these rewards.
Stormterror boss fight – It's time to battle the big bad dragon in one epic boss fight.
Andrius boss fight (The Wolf of the North challenge) – Take out the big bad (frozen) wolf to complete this challenge.
Childe/Tartaglia boss fight – The Fatui Harbinger isn't just a new addition to version 1.1's Wish banner. He's also a weekly boss fight.
The Spiral Abyss – This dungeon is a pinnacle activity presenting the toughest challenges in Genshin Impact. Can you handle it?
Quest and event guides
The Rite of Descension quest – This main quest (after defeating Stormterror and completing a quest from Venti) takes you all the way to Liyue Harbor.
Vermeer's Paintings and the Strange Rocks – Can you help Vermeer find his paintbrush and solve the mystery of the statues in Luhua Pool?
Qingyun Peak's Three Divine Birds – You can solve a puzzle that's hidden atop Genshin Impact's majestic mountains.
Qingce Ruins and Wuwang Hills fragments – If you're able to find three fragments, you'll eventually discover a treasure hoard.
The secret island and the Time and the Wind quest – There's an island that's not even visible on the world map, but it's got a cool quest and lots of loot.
The Elemental Crucible event – This event lasts only a week, and you can have some speedy runs each time.
The Marvelous Merchandise event – Give some stuff to a vendor named Liben and you could open boxes filled with rewards.
Unreconciled Stars event: Part I – Unknown Star – You'll be searching for meteorites to obtain a free Fischl.
Unreconciled Stars event: Part II – Star of Deceitful Dreams – The second phase has you salvaging meteor chunks for rewards. You also get to meet Mona.
Unreconciled Stars event: Part III – Star of Destiny – This is the conclusion of the event.
Gliding Challenge event – Take to the skies and complete courses to receive rewards.
While It's Warm event – Deliver food and get some rewards.
The Chalk Prince and the Dragon event – This event lasts for a couple of weeks. You'll meet Albedo, Sucrose, and Rosaria, too.
Lost Riches event – Follow the Treasure-Seeking Seelie and gather those iron coins. I've included updates for the subsequent days since there are various co-op challenges and special treasures.
Hypostatic Symphony event – Battle some beefed-up hypostasis bosses to get high scores.
Microtransactions and miscellaneous guides
Microtransactions, Wishes, and currencies – You're bound to get a slight migraine just looking at all the microtransactions in Genshin Impact, as well as the currencies involved. Here's a guide to help you sort things out if ever you feel like making a purchase.
Gnostic Hymn Battle Pass: Is it worth it? – There's a "seasonal" Battle Pass upgrade of sorts, one that has loads of rewards. Should you buy it, though?
"Sparkling Steps" Wish – Should you grab a Wish that nets you Klee, Xingqiu, Sucrose, and Noelle?
Version 1.1 announcement – Genshin Impact's 1.1 content update will add four new characters, and they're likely to be featured microtransactions.
Version 1.2 and Dragonspine region guides
Version 1.2 announcement – Lots of changes, additional content, and a new region to explore.
Claiming free Acquaint Fates – More premium currency from character leveling.
The Kamera gadget – Here's a gadget that can help you take more dynamic photo mode screenshots.
How to survive Sheer Cold – Oh, the weather outside is frightful, but the bonfires of Dragonspine are delightful.
How to unlock the Statue of the Seven – You'll need to destroy Ancient Rime blocks.
Frostbearing Tree and Crimson Wishes – It's Dragonspine's version of Anemoculi and Geoculi.
Secret Crimson Agate locations – Although a majority of Crimson Agates are scattered all over Dragonspine (and many are marked on the minimap), a select few are quite hidden.
The secret door in Starglow Cavern – Find three hidden boxes and the reward can be yours.
Stone tablets and the Snow-Tombed Starsilver – Interact with all eight stone tablets and you might get this claymore.
Strange Tooth and the Dragonspine Spear – Completing the "Festering Fang" sidequest nets you the Dragonspine Spear weapon.
The Peak of Vindagnyr domain and "In The Mountains" quest – There's a lengthy questline that takes you all over Dragonspine. Eventually, you'll unlock the Peak of Vindagnyr domain.
---
Genshin Impact is a free-to-play game with lots of microtransactions. If you want to check it out, you can download the client from the official website.