There's not a lot left to do since we're entering the final phases of the Lantern Rite festival. But, if ever you're playing Genshin Impact, then you should definitely try the Ley Line Overflow event which doubles your rewards (i.e., mora and hero's wit XP books) when you use original resin.
Note: For more information about the game, check out our Genshin Impact guides and features hub. You may also head to our Lantern Rite event guide.
Genshin Impact: The Ley Line Overflow event's doubled rewards from original resin
Let's face it, one of the most tiresome parts about Genshin Impact is that you always seem to run out of resin and you'd need to wait to replenish it. Now, there may be times when you do have the resin, but you don't want to waste it on any gold or hero's wit XP books that you desperately need. Thankfully, the Ley Line Overflow event can double the rewards you earn. It's as though you spent condensed resin instead of original resin.
Just head to any Ley Line Outcrop that you wish to tackle in Monstadt or Liyue. In my case, I prioritized the Blossoms of Revelation (hero's wit XP books). I may have several 5-star characters, but I ran out of booklets to hand out to them.
Anyway, start the activity, beat down your enemies, and use your original resin (20 will be deducted as usual). However, you'll get those bonus rewards due to the multiplier.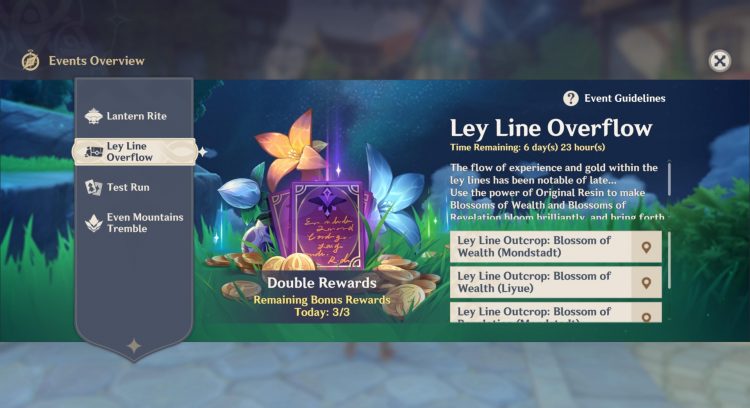 My only gripe here is that these extra rewards are only limited to three times each daily reset. Personally, I would've loved it if miHoYo increased the limit to five or even eight times (considering that the cap for original resin is 160).
Perhaps one pipedream I do have, if you'll indulge me, is that miHoYo realizes that these extra resources are needed. Not everyone's a "dolphin" or a "whale," and, with all the RNG involved when farming for artifacts already, it's a downer to spend resin just for gold or XP.
In any case, Genshin Impact's Ley Line Overflow event lasts from today until March 5. Go ahead and grab your extra rewards, and spend your resin on the stuff that matters.
---
Genshin Impact is available via its official website. For more information, check out our guides and features hub as well as our Lantern Rite event guide.