Final Strike Games and Electronic Arts have launched their explosive rocket-fueled 3v3 hero shooter, Rocket Arena. The fast-paced shooter launches with a wide variety of arenas for players to experience, as well as a diverse roster of colorful characters. You can pick up Rocket Arena through Steam or Origin and enjoy cross-play support with consoles.
At launch, players will have access to 10 unique characters with a total of 100 levels of progression. And more heroes are already in training. There are also 10 vastly different maps from around the world of Crater, 22 artifacts that dramatically change gameplay, and multiple game modes with both casual and ranked queues.
There's a lot to master in Rocket Arena. Each character has a unique playstyle, abilities, and rocket launcher. And there are plenty of mechanics and movement techniques to be learn, like rocket jumping while sniping. Check out all 10 characters and their abilities in action in the trailer below.
There are loads of cosmetics to unlock for the various characters through in-game progression. So, make sure you're completing the daily and weekly challenges.
The art of the rocket
"Our game is a truly unique hero shooter that's unlike anything players have experienced. At the surface, the fun and frantic combat is quick to grasp, but behind the curtain there is a robust, deep game that's highly competitive, full of rockets, and challenging to master," said Kevin Franklin, co-founder of Final Strike Games.
Rocket Arena has many features that amplify your experience beyond just trying to blow up everything with rockets. The Blast Meter lets you know how far your opponent will fly as you try to blast them out of the arena. When knocked out of the arena, you will be able to survey the entire battlefield and choose your point of reentry. Rejoining the fight is just another tactic to be mastered.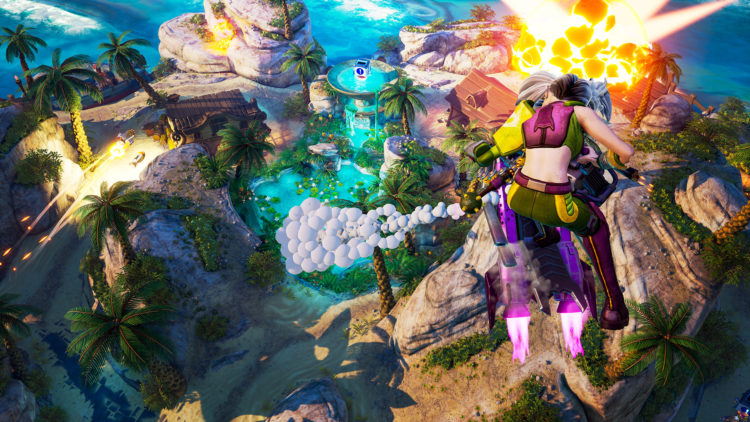 This is just the beginning for Rocket Arena. Final Strike Games has a lot planned for its new IP. "We already have tons of free post-launch content in the works and can't wait to share what else we have in store for all our players," Franklin said.
Rocket Arena season one will launch on July 28 and it will add a new hero called Flux. Seasons will last roughly three months and they will bring new characters, events, maps, and modes to the rocket-based shooter. Each season will also dive deeper into the Disney-like lore of Rocket Arena. Plus, they will bring new cosmetics, a Blast Pass, and ranked seasons.