We can now confirm that the scar-faced man from the initial Thronebreaker: The Witcher Tales artwork we posted last week is surely Geralt of Rivia. While there was little doubt he would show up in some form in Thronebreaker, today we can speculate on his role in CD Projekt Red's upcoming role-playing card battler. He shows up twice in the story teaser trailer released today.
Geralt, however, isn't taking the lead in this new story. The game stars Meve, a warrior queen on a hero's mission. Instead, it appears Geralt may take the form of her ally. He could even be her right hand as she travels the land, fighting back a Nilfgaardian invasion. The trailer's artwork below shows the White Wolf standing with sword at the ready by Meve's side.
The teaser doesn't reveal much on the story — it is a teaser after all. But we do get brief glimpses of what to expect when the game releases next month. Politics, shady deals, a dragon, and an apparent lynching led by elves (perhaps the Scoia'tael?) are all featured prominently. Death, villainy, and politics? Oh yes, this is definitely a game set in the Witcher world.
Thronebreaker, however, does change up the formula. According to the screenshots displayed on the official page, the game is played with an overhead camera — think Baldur's Gate or Diablo. You also don't fight in the traditional RPG form. Instead, Thronebreaker utilizes a card battling system akin to GWENT: The Witcher Card Game.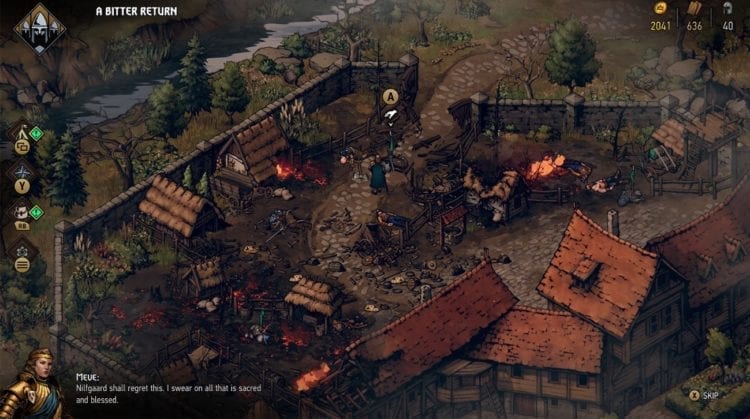 Don't expect to sprint quickly through the Thronebreaker story. This is still a role-playing game, and coming from a team like CD Projekt Red, you know you're in it for the long haul.
"Thronebreaker is a proper Witcher tale, with more than 30 hours of story, over 75 side quests, and — at the same time — a game that lets you lead an army into previously unexplored places in the Witcher universe," said Marcin Iwiński, co-founder of CD PROJEKT. "And all of this is powered by story-driven battles based on the card battle mechanics of GWENT."
Shared loot
Thronebreaker launches late next month via GOG. You can pre-order the game starting today; however, doing so thankfully won't give anyone an unfair advantage. While there are digital bonuses coming with the game, they are limited to no one.
"When buying our games, everyone gets the same in-game content," Iwiński said. "Doesn't matter if you pre-order it or buy it after launch. We don't want to lure you in with 'exclusive item' bullshit. For us, pre-orders are all about the anticipation and excitement, and — most importantly — showing support for the studios and games you love."
Buying (not pre-ordering) Thronebreaker: The Witcher Tales grants you:
Official Thronebreaker Soundtrack
Digital version of GWENT: Art of The Witcher Card Game artbook from Dark Horse
Concept art, including the map of Lyria
The Witcher graphic novel "Fox Children" by Dark Horse
2 in-game GWENT: The Witcher Card Game Player Titles
2 in-game GWENT: The Witcher Card Game Player Avatars
5 premium kegs for GWENT: The Witcher Card Game
Related to this articleRelated to this articleRelated to this article
Cam has been shooting for high scores since his days playing on the Atari 2600. Writing about video games since 2005, Cam has also worked with GameSpot, GamesRadar, and PlayBoy.