While esports isn't something that all gamers tend to follow, its growth as an industry is undeniable. There are estimated to be over 2.5 billion gamers worldwide with the gaming industry pulling in $150 billion USD annually. And 450 million of those gamers make up the esports audience now. The industry is expected to continue growing by 15% annually.
Needless to say, there are plenty of companies and investors eager to establish a presence in the esports scene before it hits new highs in the near future.
Destination Canada
And while esports takes place worldwide, Toronto, Canada is becoming a major destination for tournaments in North America. A proposed $500 million USD esports arena would certainly solidify Toronto as a premier destination for the competitive scene. OverActive Media is at the helm of this costly venture. You might recognize the company as the owner of the Overwatch League's Toronto Defiant and Call of Duty's Toronto Ultra teams. Obviously OverActive Media has plans for its own teams, but the company also plans to host over 200 entertainment events annually. The facility certainly looks up to the task.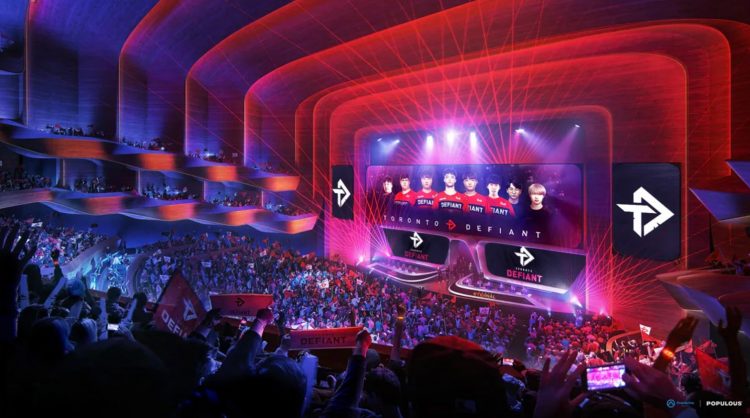 The facility itself is capable of seating over 7,000, and there will also be a hotel integrated into the complex. The designs haven't been finalized, but anything like this concept would certainly draw the attention of big event organizers. OverActive Media hopes to complete the project by 2025. By then, it should be able to reap the rewards of the growing esports scene.
Toronto is getting the ultimate gamer arena
"Today is another important step in the evolution of OverActive Media," said Chris Overholt, OverActive's president and CEO. "We are building a world leading, 21st century sports media and entertainment company and this best-in-class performance venue will be the chosen home for a new generation of fans that think differently about their entertainment choices and experiences."
The design work was contracted to Populous, which is world-renowned for its work on Olympic stadiums, modern sports stadiums that have been elected as Super Bowl destinations, and more. The company's portfolio is nothing to bat an eye at, and the sleek looks of the Toronto esports arena are telling of its expertise.