The eternal battle between the Autobots and the Decepticons continues in a brand new game from Bandai Namco titled Transformers: Battlegrounds. We don't know too much about this title, but we do have an announcement trailer. You can also find a few words from the people behind the bots' newest venture in the video game realm below.
Robotic warfare for all ages
The new game is being handled by the UK developer Coatsink, who previously worked on indie titles like Get Packed, Cake Bash, and PHOGS! Working on a huge property like Transformers, then, is a big step up for them. The story for this new game is that Megatron is closing in on the Allspark, and Bumblebee and the Autobots need a new commander to lead their forces. Presumably, that new commander is you, the player. The game will take place on Earth and Cybertron in single-player and multiplayer modes.
Battlegrounds seems to have a focus on grabbing younger audiences. Terry Malham, the CEO of publisher Outright Games, described this goal in a bit more detail. "The Transformers franchise is one of the most enduring and recognizable in the world of entertainment," he stated. "It's an honor to work with this beloved universe and these iconic characters to create a new and exciting Transformers console game that families can enjoy together."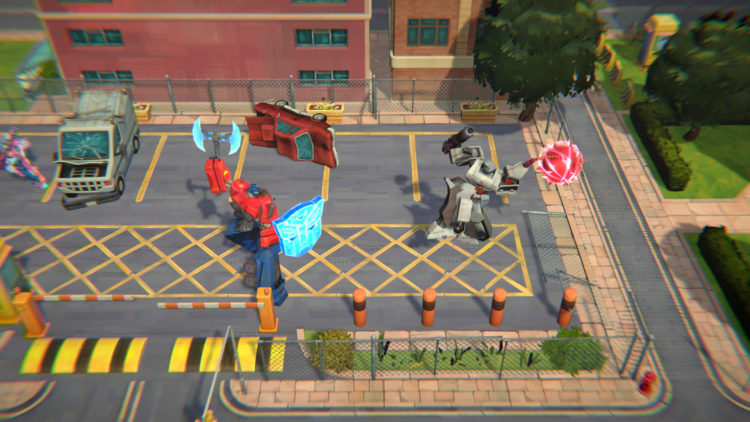 Autobots! Strategize and roll out!
Mark Blecher, the Hasbro SVP Corporate Strategy and Business Affairs, continued this sentiment. "Transformers: Battlegrounds is a new and authentic take on what a Transformers video game can be. It's exciting for us to bring the epic story of the battle between the Autobots and Decepticons to life for a new generation of fans."
It is interesting to note that the specific genre for the game has not been revealed. Based on the trailer and the use of terms like "commander," though, it would appear that the game is a tactical RTS in the vein of Command & Conquer and Starcraft. That would be interesting, given the game's focus on a younger audience. According to Bandai Namco, we will see more of the game during the summer before it launches on October 23 for PlayStation 4, Nintendo Switch, Xbox One, and PC.