Final Fantasy XIV: Endwalker has a slew of Collector's Editions coming out, as announced at the Final Fantasy XIV Digital Fan Festival 2021 keynote. The problem is that depending on both what you want and what platform you're on, you're going to need to buy different ones.
Unfortunately, "what platform" also applies to PC, because Final Fantasy XIV is split between both the official launcher and the Steam version. You'll need a different edition depending on which you're on. But don't worry — I've got you covered in terms of what each Collector's Edition contains, and what you'll need to buy depending on whether you're playing via the launcher or through Steam.
Final Fantasy XIV: Endwalker Collector's Edition
First of all, let's talk about what you actually get in the Collector's Edition. The biggest of the lot is the physical Collector's Edition, which contains all sorts of wonderful physical goodies you can get your literal hands on.
So! Aside from the glossy "Art Box" itself, covered in that lovely Amano Endwalker art? You'll get a Paladin figure using Passage of Arms, a collection of art prints running the gamut from 1.0 art through to Endwalker art, a frame for that art, an pin designed to look like Azem's crystal, and a Loporrit mini plush.
The Collector's Edition in-game items, meanwhile, are a wind-up Porom minion (Final Fantasy IV represent), an Arion mount, and a Death Scythe from Final Fantasy XI for the new Reaper job.
Finally, there are pre-order bonuses: a wind-up Palom minion, and Menphina earrings that will grant 30% bonus experience up to level 80. As those will be available before launch, they should be a good way to level up some more jobs before Endwalker hits. These are available no matter what version of the game you buy, as long as you pre-order it.
It's also worth noting that with Endwalker, there will be no physical discs. This is digital download only. Considering the digital nature of the game, the regular large patches, and the fact that over 80% of players bought the digital version, that isn't likely to cause too many problems.
Which edition should you buy?
So, we get to the problem. Depending on what platform you're on and what you want, which Collector's Edition should you buy?
The big beastie is the Final Fantasy XIV: Endwalker Collector's Edition. This contains a game code for both the Windows and Mac versions of the game, all of the physical items, and all of the digital items, and can be ordered from the Square Enix store on the 15th of May (today, as of time of writing) from 12pm BST. That's 7am EST, assuming I can do time zone conversions properly right now. As such, if you're using the game's official launcher and you want everything, that's the one to buy.
If you're on Steam (or the Playstation 4 or 5), though, then things get a bit confusing.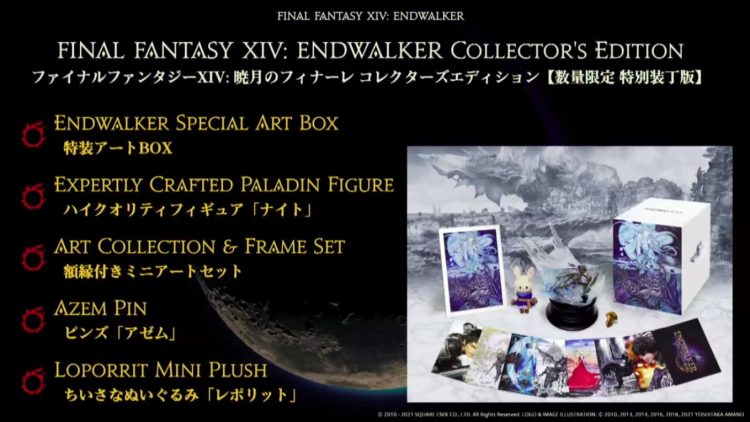 If you're using Steam and want both the digital and physical items, then first, you want to purchase the Final Fantasy XIV: Endwalker Collector's Box. This contains all of the physical goodies, but does not contain the game or digital items. After that, you can buy the Digital Collector's Edition on Steam (or the PS4/PS5, I guess) to get the game and the in-game items. And if you don't want the in-game items? Well, you can just buy the Collector's Box and the regular edition of the game.
Similarly, if you don't want any physical stuff but do want the in-game items then you can grab the Digital Collector's Edition, either from the Square Enix store or from Steam, depending on whether you play via the FFXIV launcher or via Steam. Finally, if you don't care about any of the bonus items? Just buy the Endwalker standard edition. Easy.
So yeah, the first step is to take note of whether you play through Steam or not. That's the one thing that'll heavily impact your purchasing decision.
The Digital Collector's Edition is available for pre-order now, apparently, while the Collector's Box and Collector's Edition will go on sale in about 7 hours from the time of writing. (Note that the link there is for the UK store.)
Final Fantasy XIV: Endwalker is due out on November 23rd. If you don't have any of the expansions, then fear not: Endwalker will come with Stormblood and Shadowbringers, so you'll only need the base game and Endwalker to have access to all of the content.