Xbox has announced a new collection of games heading to Xbox Game Pass for PC in February. In just a few days, Code Vein and Wreckfest will arrive on the service, with Dirt 5 and Superhot coming later in February. If you aren't currently an Xbox Game Pass for PC member, you can sign up today and get your first month for $1 USD. Subscribers receive access to an extensive library of games, both old and new releases. Plus, EA Play will be added to the service sometime in 2021. With this new addition, players can access Electronic Arts-published games.
Code Vein will be added to Xbox Game Pass for PC on February 18. Bandai Namco's 2019 RPG sees players enter a post-apocalyptic world following a disaster known as the Great Collapse. Join a team of Revenants tasked with taking down monsters in the city of Vein and discover the truth about the disaster.
Bugbear Entertainment's Wreckfest is also coming on February 18. In this destructive racing game, players engage in vehicle combat, banger racing, and demolition derby to see who comes out on top. It's like any modern racing title, except a lot more chaotic, and much fewer rules.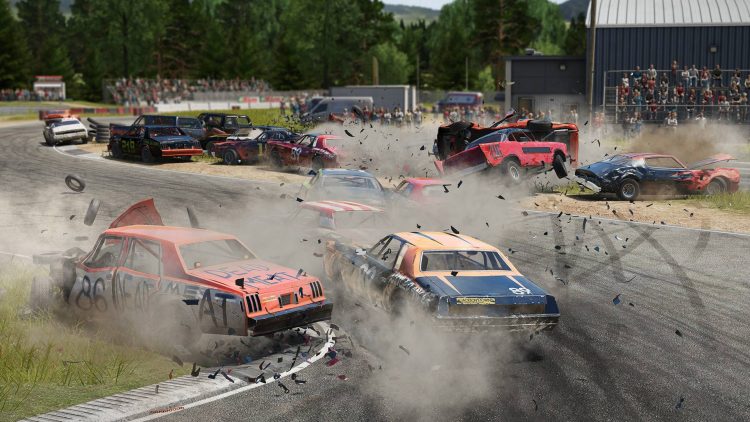 Coming later in February to Xbox Game Pass for PC
There's even more fun to come next week. On February 25, another racing title will arrive on Xbox Game Pass for PC: Dirt 5. In this off-road arcade racer from Codemasters, players can compete around the globe and choose from a long roster of special cars. Finally, Xbox Game Pass for PC will receive Superhot: Mind Control Delete. The third game in the Superhot franchise allows players to explore unique powers and engage in destruction with more guns than ever before.
The arrival of new titles does mean that some will be leaving Xbox Game Pass for PC this month. February 28 will be the last day to access Momodora: Reverie Under the Moonlight, Mother Russia Bleeds, Oxenfree, and Vambrace: Cold Soul.