2-BIT is a computer in Charlie's arena. Apparently, half the dude's brain was implanted in this device, making it both smart and erratic. On the bright side, you're able to interact with 2-BIT during the course of Deathloop's campaign. Here's our Deathloop guide to help you with the functions of 2-BIT, as well as how you can lure Wenjie as part of the "What Wenjies Want" quest.
Note: For more information, check out our Deathloop guides and features hub. Likewise, please be reminded that this guide contains minor spoilers.
Deathloop AEON Visionary boss guide – How to lure Wenjie by using 2-BIT (What Wenjies Want quest)
The Complex (afternoon) and other locations

First things first, Wenjie is someone you'll kill early on in Deathloop's campaign as part of the Ubiquity mission. Although you can check the labs for clues, there are two locked doors with codes that you still haven't discovered yet.
You'll find the passcode while you're attempting to learn more about the relationship between Charlie and Fia in the Afternoon Delight quest. To clarify, I don't remember if you receive the code when you're checking Charlie's Obnoxious Machine in the Fristad Rock safe house or if it's inside the Yehrva safe in Karl's Bay.
Either way, you should be able to access this room in the lab, so just return to The Complex in the afternoon. Take out the Wenjie clones or move stealthily (it doesn't matter). What's important is that you look at all the documents and terminals in this room.
You'll find out soon enough that, in the evening, all Wenjies become one Wenjie. That person will continue working on her research unless she gets distracted.
Updaam (noon)
Go to Updaam at noon. We're going to look for an object here called the Aleksis Pup (it has a recording of Aleksis' voice).
The safe is on the first floor of Updaam Library. As for the code, you should have it if you were able to snoop around Aleksis' manor (Updaam – evening). If not, I believe 2-BIT in Charlie's Condition Detachment building (Updaam – noon) might give you the code as well, but only at this point in Deathloop's campaign.
Once you have the Aleksis Pup toy, make your way to the Condition Detachment building. Because the toy keeps talking, it's going to attract the attention of all the guards in the area.
In any case, try to reach 2-BIT's room and interact with the robot. The idea is to distract Wenjie by pretending that Aleksis is inviting her to the party. Among all the choices here, the correct option is "Make Aleksis give Wenjie what she wants."
Other interactions with 2-BIT and becoming a power user
2-BIT is a unique NPC in Deathloop in that it remembers the commands you've given regardless of restarting the day's cycle. It means that we won't need to redo all the steps (i.e., checking Wenjie's lab or finding the Aleksis Pup) because it will always make that forged invitation. In short, Wenjie will, from this point onwards, appear at Aleksis' party (Updaam – evening).
Note: This is extremely helpful if you want to eliminate all the Visionaries in a single day which, in turn, lets you reach the game's finale.
There are also a couple of commands related to the Condition Detachment game that Charlie has structured:
Ignite rocket engine (disabled by default due to lack of power).
Evacuate all personnel from the planet.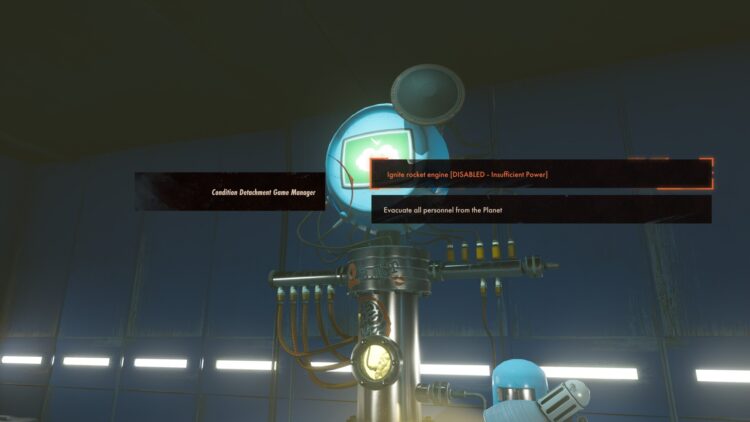 To be clear, I haven't gotten either of these to work beforehand even after completing some steps. Then, I realized that 2-BIT grants you "power user" status. This occurs after you've asked for its help with the Aleksis/Wenjie invitation.
You can choose these two replies in succession:
"Wait a minute, something doesn't add up."
"C'mon Colt! You can't leave him like that!"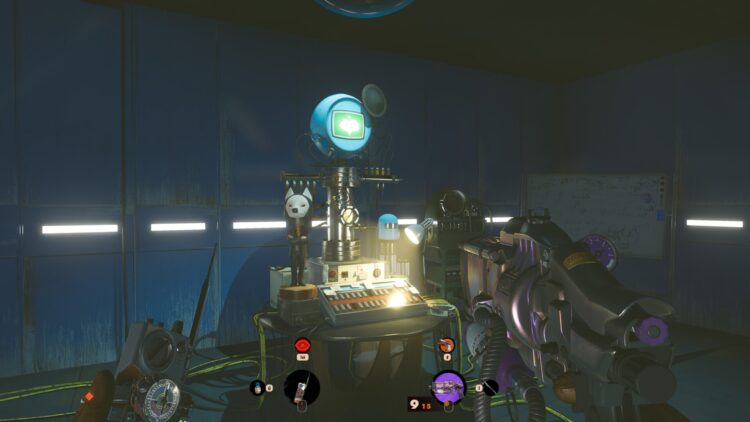 With the power user status, you can make 2-BIT follow drastic actions. For instance, you can collect three batteries in the Condition Detachment supply room, side room, and the outer nook with the Classpass door. Place these inside the rocket ship model on the same floor where 2-BIT is.
If you're a power user, it seems you should be able to tell 2-BIT to burn the place to the ground (with Colt safely behind the blast doors in 2-BIT's chamber).
---
Deathloop is available via Steam and its official website.