Is Square Enix already working on a PC port of the new Final Fantasy VII Remake? The company has released a brand new video message in honor of the game's launch on the PlayStation 4. While the video doesn't reveal anything too surprising, Final Fantasy fans are now speculating that the studio may already be working on bringing the game to PC.
Right at the start of the video message, text flashes up over game footage. The text reads, "Gameplay captured on PC." Cue wild speculation from the game's eager fan community. Why would Square Enix show off PC footage of Final Fantasy VII if a port isn't already in development?
Will Final Fantasy VII get a port?
It's worth bearing in mind that this development footage for Final Fantasy VII Remake doesn't necessarily prove that Square Enix is already creating a PC build for commercial release. The game was built using computers, so it makes sense to test the game on these same computers. Square Enix needed to clarify that the footage came from a PC rather than a PlayStation 4 for transparency purposes.
The real question is why, when editing this message, the marketing team chose to grab PC test footage rather than footage from the commercially available PlayStation 4 product. It would make sense if the PC footage was more conveniently available. As such, hopeful fans assume that there must be a deeper meaning behind the choice.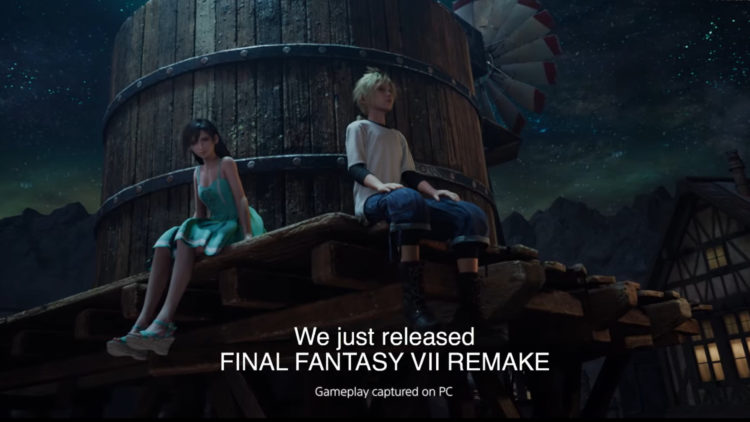 Timed exclusive
It wouldn't be too much of a stretch to imagine that Square Enix is already working on a PC version of the game. Honestly, the main surprise would come from seeing it so soon. Final Fantasy VII Remake is a Sony exclusive until at least April 10, 2021. Any PC port currently in development couldn't release any sooner than this date.
If the footage shown in Square Enix's launch message is evidence of an in-development PC port, it seems that the company plans to have this version of the game ready for as soon as they legally can. While this is by no means proof that the port is forthcoming, it's worth holding out hope. Who knows? A PC version of Final Fantasy VII Remake could be just a year away.