In a move that was always going to spark a reaction, 2K has added unskippable ads to its latest NBA title. Stevivor reports that a reader informed them of the addition, and with further testing, has noted their inclusion in NBA 2K21. The adverts appear in the PC, PS4 and Xbox One versions of the game.
When you load up a "MyTEAM Season 2" video within NBA 2K21, an Oculus Quest 2 advert appears before the video begins. It's been noted that a prompt to skip ahead doesn't appear until the advert has finished, which even includes a price tag for the VR device. This unskippable nature includes versions of NBA 2K21 running from an SSD, which would typically load before the duration of advert has passed.
There's video evidence too, for both console versions of the game. This is a particularly controversial move, as the publisher is one of a selection who've decided to charge extra for games as we move into the next generation. Eliminating loading times has also been touted as a big next gen console feature, with PCs also becoming more reliant on SSD storage. Let's hope loading screens aren't to be replaced by in-game adverts.
2K following EA
Back in September, there was news of similar developments in an EA sports game. UFC 4 added pop-up adverts into some of its mid-fight replays, causing warranted fan backlash. These were promptly removed by the publisher, who issued a statement apologizing for their addition and stating that the experience was "not welcome." By not welcome, EA means not welcome by fans.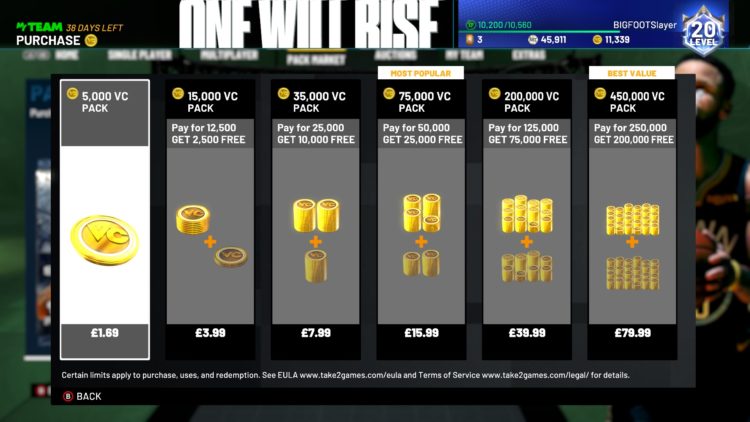 It's not even the first time 2K has pulled this trick either. Adverts were spotted inside NBA 2K19 over a year ago, added by the publisher when the game went on sale. It seems that 2K wants to charge $70 for games, and have them contain adverts and borderline pay-to-win mechanics. Let's hope these are removed as swiftly as they were from UFC 4.