CES 2019, much like the years before it, has been packed with tons of new developments in technology. One of the main players at the event, Nvidia, kicked it off with its press conference hosted by CEO Jensen Huang.
After promising there would be less talk about self-driving cars this time around, Mr. Huang jumped straight into the new innovations. Here are the key gaming highlights from the presentation.
Ray Tracing For Everyone
Ray tracing is a technology 10 years in the making. To sum it up, ray tracing renders an image by following light paths. At first glance, the process seemed to be so intensely complicated, that it caused the frame rate of games to suffer massively.
Even though only a handful of games offer support for Nvidia's RTX technology right now, that's expected to change drastically in the comping year.
Additionally, Nvidia demonstrated that with DLSS (Deep Learning Super Sampling), frame rates can be saved. The AI of the tensor core of the RTX cards to let you experience both high frame rates, and graphical fidelity like never before. Hopefully, that will help compensate for the framerate issues some of experienced with games such as Battlefield V when running the game at 4K resolutions with ray tracing turned on.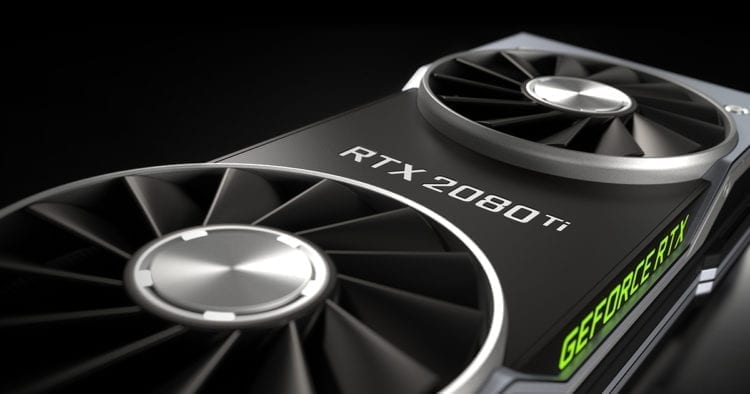 Now you may be thinking that a cutting-edge rendering process like ray tracing is out of your league. That might not be the case anymore. At the conference, Nvidia announced that the GeForce RTX 2060 is coming January 15, and for cost $349. Now $350 might not sound cheap, but it certainly is when compared to other Nvidia cards. Especially since they come with either Anthem or Battlefield V for free.
Getting On Board With FreeSync
FreeSync, adaptive sync, and G-Sync are all technologies that address the same problem. Basically, the technologies sync your monitor's refresh rate to your graphics card. Doing so reduces or eliminates most visual jitters and screen tearing in games. AMD and Nvidia had a bit of a tug-of-war with their competing systems. But the trade-off ultimately boiled down to how Nvidia's G-Sync monitors cost more while AMD's FreeSync cost less.
AMD was the flagship company supporting FreeSync, but Nvidia just busted through the proverbial window by announcing some support for FreeSync. During the conference, Jensen announced that Nvidia is testing every monitor with adaptive syncing to see if they match their standards. Unfortunately, out of the hundreds of monitors with FreeSync, only 12 have passed. But, if you feel your FreeSync monitor can ace the test, you can run the testing software in your GeForce control panel starting January 15 to see for yourself.
If you don't care about any of the technological jargon, it just means that monitor companies just have to meet Nvidia's standards instead of picking between FreeSync or G-Sync. This will likely lead to cheaper gaming monitors going forward.
Nvidia's BFGD Are Casting Quite The Large Shadow
While on the topic of G-Sync displays, Nvidia also unveiled a gigantic new display. Until now, gamers that used their TVs as a second monitor had to put up with slightly lower performance and delayed response, but no longer. Coming in February, Nvidia will be releasing its new Big Format Gaming Displays. These BFGDs (a solid Doom reference) will be 65 inches large while also supporting also feature 4k resolutions, 144Hz refresh, 1,000 nit HDR, 384 zone matrix backlight, and cinematic DCI-P3 color.
Basically, they're really big high-performance monitors. These new gaming displays were created in conjunction with Acer, Asus, and HP. They'll have G-Sync, HDR, Nvidia Shield, and even has support for Google assistant. So, whether you want to use a remote, controller, or even your voice, this TV has it covered. Oh, and by the way, they're already avaliable for pre-order.
Anthem's Looking Real Good, Graphically
Lastly, we got to see more of Bioware's Anthem as well as Battlefield V, now with the highest level of graphical quality and ray tracing aas promised. The Nvidia keynote dropped a brand new trailer for Anthem that showcased how DLSS and AI really do seem to make real-time ray tracing possible. The trailer is half a benchmark video, half actual gameplay but boy does it look pretty.
I'll admit, some of the footage I felt was running between 30-40 frames, but it always seemed to at least be at 30, and some parts were for sure running at 60 fps or higher. Honestly, I wasn't sold on ray tracing, and I'm still not, but this trailer goes a long way to show me that it's not the next "TressFX." Plus, if you're interested in Anthem, there's plenty here to pick apart. I particularly love the look of the Javelin suit at the end.
Those are all the biggest highlights, not counting RTX laptops, OBS optimization for streaming, or Battlefield V footage.
What news was your favorite? Anything you felt really surprised you, even for CES? Let us know your thoughts in the comments down below!