We're back once again with a look at this week's PC game releases. Last week, we had Assassin's Creed Odyssey and Forza Horizon 4 racing in Classical Era Greece and modern streets respectively. This week, October 8 to 14, we've got bloody warzones in Call of Duty: Black Ops 4 and fights in the squared circle in WWE 2K19. We're also going to see combat inside a derelict spaceship in Space Hulk: Tactics, among others. Let's check them out, shall we?
As usual, for those looking to plan further ahead, you can check out our updated PC game release date list for the rest of the year all the way to mid-2019.
WWE 2K19
Release Date: October 9, 2018
Developer: Yuke's, Visual Concepts
Publisher: 2K
The yearly wrestling game franchise is back once again. This time around in WWE 2K19, we're getting some fresh faces that will join familiar ones. We're going to see the WWE 2K game debuts of NXT UK stars Pete Dunne and Tyler Bate. We'll see the Undisputed Era led by Adam Cole, too. Your legends and modern superstars are also here, naturally. AJ Styles headlines as the cover star, but Daniel Bryan gets the spotlight with his own career retrospective Showcase Mode.
As with every WWE 2K game, WWE 2K19 will also have additional DLC offerings that bring in more wrestlers who didn't make the cut originally. The Rising Stars Pack will include Candice LeRae, Dakota Kai (BIG DAWG!), and Ricochet. Meanwhile, the Titans Pack will have Bobby Lashley, EC3, and the War Raiders (Hanson and Rowe). Notable omissions from the roster are Nikki Cross, the Three Faces of Foley (Dude Love, Cactus Jack, Mankind), and none other than the NXT Champion himself — Tommaso Ciampa. I just wish 2K would release these guys as part of a "Lunacy Pack Free-LC" since, thematically, they're all deranged in some way.
Please note that Deluxe Editions of WWE 2K19 has an early access feature for fans, allowing them to play since October 5.
Space Hulk: Tactics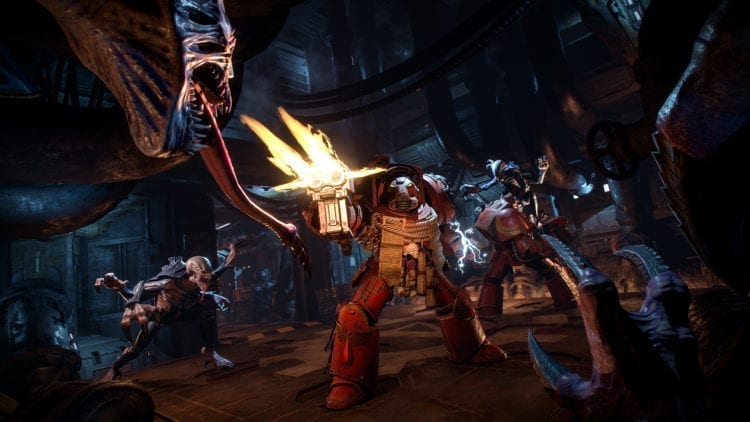 Release Date: October 9, 2018
Developer: Cyanide Studio
Publisher: Focus Home Interactive
Cyanide Studio has been making Warhammer Fantasy and Warhammer 40K video game adaptations; they had Blood Bowl and Mordheim years ago. This time around they're going back to Games Workshop's Space Hulk property. This is going to be their second crack at it after the disappointment that was Space Hulk: Deathwing. Eschewing tried-and-tested tabletop mechanics, Cyanide tried to go the FPS route, which earned the ire of fans and critics alike.
For Space Hulk: Tactics, we hope the studio can redeem itself. The tabletop/board game has been adapted numerous times in the past by other developers, but Cyanide does have more experience to draw from. We're going to see the Blood Angels take on the Genestealer Cults inside a massive vessel in a tactical game with some card mechanics. Let's pray that this game can give glory to The Emperor and the source material.
Mark Of The Ninja: Remastered
Release Date: October 9, 2018
Developer: Klei Entertainment
Publisher: Klei Entertainment
Six years ago, Klei Entertainment released Mark of the Ninja to critical acclaim. Though platformers have been around for decades, Mark of the Ninja gave the genre a fresh new take. It placed an emphasis on stealth that wasn't just tacked on but rather was a necessary part of the core gameplay. Even if it was a necessity, stealth mechanics were crafted to be fun and engaging.
Mark of the Ninja: Remastered hopes to recapture the magic of the original with improved graphics, cinematics, audio, and a short tale involving a young Dosan (one of the characters in the first game) along with developer commentary. Owners of the original don't even need to buy the remastered version at full price. They can just upgrade to it on Steam.
The Occupation
Release Date: October 9, 2018
Developer: White Paper Games
Publisher: Humble Bundle
Lots of folks love Humble Bundle owing to the quality of packaged offerings they have. Their support for independent developers and Trove are also highlights. So when they publish a new game, you can bet that people have high expectations. The Occupation hopes to generate that fan interest with its unique narrative — think first-person Orwell.
An explosion leads to draconian measures, threatening the rights and freedoms of people in 1987 Britain. And so it's up to you to investigate what really happened. Along the way, you can choose how to go about your business — will you go barging in, or will you be methodical in your approach? Plus, it's been a while since we've seen or used pagers, so The Occupation should pique that interest in nostalgia.
Call Of Duty: Black Ops 4
Release Date: October 12, 2018
Developer: Treyarch
Publisher: Activision
This week ends with a bang, literally and figuratively. It's Treyarch and Activision's multimillion-selling and long-running franchise that's been a mainstay of the FPS genre — Call of Duty: Black Ops 4.
When news initially broke out that the game would no longer have a traditional single-player campaign, many fans took to social media and internet forums to express their disdain. The developers answered by stating that the game would feature new modes and expansive changes that will completely replace that single-player experience which — let's be honest — always took a backseat to the online multiplayer.
And what an online multiplayer slugfest it's going to be. You've got the good old competitive modes that everyone's familiar with. You've got Zombies, which has become a staple of the franchise. Last, but certainly not the least, you've got Blackout. This is the highly anticipated battle royale mode for Call of Duty: Black Ops 4. It will feature iconic locations from previous games as well as memorable characters such as Alex Mason and Raul Menendez. It will also have the usual Solo, Duos, and Quads (Squads/four-player-teams) gunning it out to be the remaining survivors.
This is going to be a pretty big deal, not just for the franchise, but for the battle royale genre as a whole. Lots of games have tried to copy the success of Fortnite and PUBG. Many have failed. Given that Call of Duty has been one of the cornerstones of FPS gaming for a decade and a half, we're going to see how the big guns handle battle royale gameplay.
Next Week
Next week, we'll see World War 3, Warriors Orochi 4, Soulcalibur 6, RimWorld, and more. That's a lot of fighting, slashing, surviving, and explosions going around, so stay tuned.
---
Note: Release dates listed are for North America.