The Rytec AMR is an explosive sniper rifle that was released during Call of Duty: Modern Warfare Season 4. Now, the sniper is becoming a dominant weapon in Verdansk, along with many others. The Rytec AMR has a higher fire rate than other popular sniper rifles such as the AX-50. Also, the semi-automatic sniper can use thermite and explosive rounds to kill enemy players. Once you have this weapon, you're going to want the best sniper loadout for it.
If you have not already unlocked the Rytec AMR, you must complete a challenge in order to do so. The challenge requires you to get three quickscope kills using a sniper or marksman rifle in 15 different matches. Similar to other challenges, the easiest way to complete this is to go into a multiplayer match. As quickscopes are required, you may find it easier to hop into a Shipment or Shoot House playlist due to the size of the maps. Also, free-to-play Call of Duty: Warzone players can complete this challenge, but it may be harder. Here, you should play a mode that allows multiple respawns such as Plunder or a Stimulus mode.
The best Warzone sniper loadout for Rytec AMR
Muzzle: Rytec AMR Supressor
Optics: Variable Zoom Scope or a Thermal Optic
Barrel: FTAC Seven Straight
Laser: Tac Laser
Ammunition: Magazine with five rounds of 25 x 59mm explosive ammo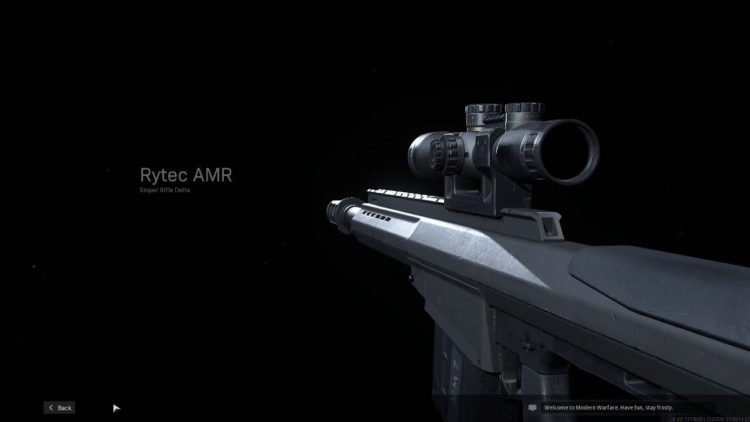 The suppressor acts as a silencer and ensures that you do not show up on the mini-map once taking a shot. The Variable Zoom Scope allows you to see enemies and shoot them at further range. In addition, the FTAC Seven Straight barrel is useful, as it increases the range of the weapon and the bullet velocity. Don't forget the Tac Laser as well, which improves aiming speed and stability.
Lastly, the explosive ammunition deals much more damage and has a small blast radius, meaning you do not have to hit the perfect shot for it to do damage. It also works well to counter vehicles in Call of Duty: Warzone. However, if you prefer not to use the explosive ammo, switch it out for a different attachment such as stippled grip tape.