Ever wondered how much money you can really make in esports? According to a new study, the top five Counter-Strike: Global Offensive players have earned a combined total of $8.1 million. That's quite the achievement!
This news comes courtesy of a new study from LeagueOfBetting, which analyzed the prize money dished out at CS:GO tournaments since the game launched. As of March of this year, the top player in the world has earned an incredible $1.75 million.
Who earned the $8.1 million?
The top three CS:GO players have all earned fairly comparable amounts. The top player, Andreas "Xyp9x" Højsleth is only $3,000 ahead of rival Peter "dupreeh" Rasmussen. Both have earned over $1.75 million in prizes. Meanwhile, the third most affluent player in the world, Nicolai "dev1ce" Reedtz, trails them slightly with a mere $1.71 million.
According to the study, Counter-Strike: Global Offensive is currently the second-highest-paid esport in the world. $92.3 million have been awarded as prize money since CS:GO debuted in 2012. As a result, nearly eight years after the game was officially released, its playerbase is stronger than ever. In February, the game experienced an all-time record for the total number of consecutive players. Over 917,000 people played CS:GO at the same time, beating a previous record set in December. It seems likely that this number will only continue to rise.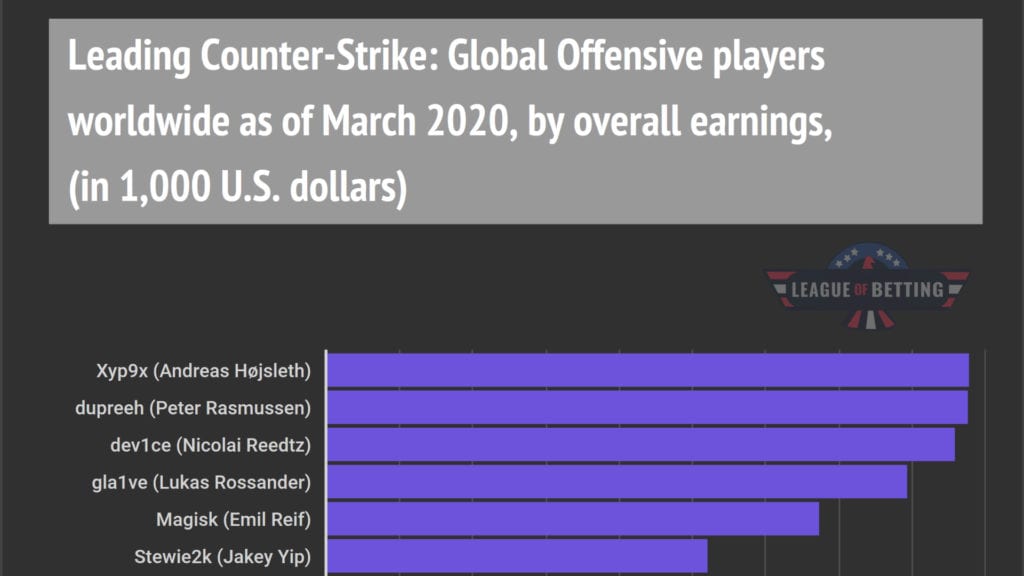 CS:GO and power to the players
Esports continue to grow as legitimate business ventures in their own right, with over a million people tuning into a recent CS:GO tournament final. Large prizes serve as excellent marketing both for the games themselves and the adjacent esports community. They attract world-class talent, convincing big crowds to watch (and bet on) games, and they keep titles like CS:GO appealing for new players long after their initial release.
Even though just five CS:GO players earned $8.1 million, the amount of money that esports generate is equally fascinating. Many people, both in the gaming industry and outside of it, will continue to take note of this aspect in particular. And as it continues to grow, esports, the games, and their communities of players will only grow more as well.