Wrath: Aeon of Ruin is an upcoming first-person shooter from 3D Realms, 1C Entertainment, and KillPixel Games that runs on the original Quake engine. It originally launched into Early Access late last year, giving us a chance to try it out for ourselves. Now, the developers have provided us with an official release date. Wrath: Aeon of Ruin will provide its modern take on an old-school shooter when it launches on February 25, 2021.
Killing in the name of
Wrath is currently in Steam's Early Access program, and the development team has now outlined a new roadmap to prepare fans for future updates. Today also marks the arrival of one such update for Early Access players. This brings a new level, the Slag Cannon weapon, and an Oppressor enemy type who stands ready to hurl molten lava rocks at your face.
The new underground areas have some challenges of their own, too. Such obstacles include lava, caves, and stone chambers, while "profane altars hint at the horrors of a forgotten world." Big yikes.
Haul-er at me
There is more to the Wrath: Aeon of Ruin release date reveal than just some screens and a trailer. The devs also announced a limited edition haul will become available in the future. If you're one of those diehard physical release peeps, then they've got a few things in store for you.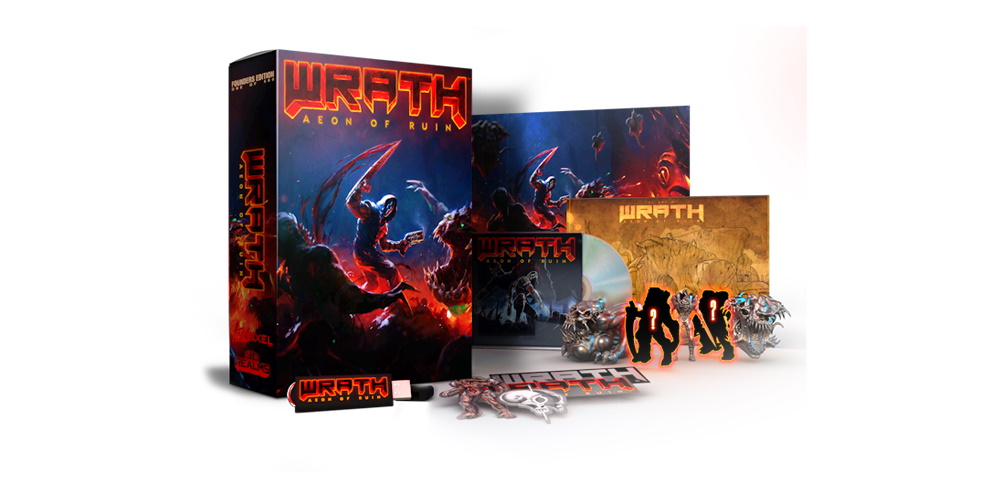 A Founder's Edition Big Box is now up for pre-order. The team will only produce 500 copies of this, which will run you $99.99 USD. It includes the game on CD-ROM, an art book, the OST by Andrew Hulshult (Duke Nukem 3D), five metal enemy figurines, a reversible poster, stickers, and a USB drive "loaded with exclusive digital content." At the time of writing, just less than 300 remain available on the official pre-order site.
Wrath: Aeon of Ruin will fully release on February 25, 2021. You can currently buy the game on Steam Early Access for $24.99 to experience what the developers have released so far. Owners of Ion Fury will receive a 10% discount on the price of Wrath: Aeon of Ruin with the Complete Your Set Bundle.