This week's Content Drops are kicking off December 2019. The PC game releases are sure to reach for the stars given that we'll have Halo: Reach, the first game in the Halo: Master Chief Collection, and Everreach: Project Eden, a mini-Mass Effect RPG. We'll also see the long-awaited Phoenix Point, Paranoia: Happiness is Mandatory, and Darksiders Genesis. Likewise, this week will also have SaGa: Scarlet Grace Ambitions, Arise: A Simple Story, Mosaic, EarthNight, and the conclusion to Life is Strange 2.
For all the PC games releasing this December 2019 (and perhaps a few surprises down the road), check out our monthly feature. As for the rest of the games launching this year and beyond, you can view our full release dates list.
Halo: Reach
Release Date: December 3
Developer: Bungie/343 Industries
Publisher: Xbox Games Studios/Microsoft
Store: Steam
Arguably the biggest PC game releasing this December 2019 is none other than Halo: Reach. This is the first title that's part of Halo: The Master Chief Collection, a treasure trove containing the first four main titles in the franchise as well as the aforementioned Reach and Halo 3: ODST.
Halo: Reach will be the first time that players will be able to try out the Xbox 360 title that came out in 2010. It's also notable for being the last Halo game developed by Bungie before their split with Microsoft. Another notable tidbit is that Halo: Reach kickstarting the entire collection does make sense. After all, it's the chronological beginning of the franchise's narrative arc.
In Halo: Reach, the massive Covenant armada has already laid waste to countless human worlds. Reach, the bastion of the UNSC serves as the gateway to the inner systems, and its defense is of utmost importance. Players take control of a newly-trained Spartan soldier, Noble Six, who, along with the rest of Noble Team, will have to resist the Covenant invaders.
Halo: Reach will offer support for 4K UHD resolution and 60 FPS gameplay. At launch, you'll be able to experience Noble Team's story via the campaign, and multiplayer will include the Firefight and Invasion modes. Two additional features — Theater and Forge (which lets you craft and play on millions of user-generated maps) — will be made available in 2020. Find out what time Halo: Reach goes live in your country/region here.
Phoenix Point
Release Date: December 3
Developer: Snapshot Games
Publisher: Snapshot Games
Store: Epic
In the late 80s, Julian Gollop and his brother Nick envisioned a genre that would become a mainstay in the gaming landscape. Featuring turn-based tactical combat against an alien menace, and with a means of progression via a "geoscape" — a map of the world representing various regions and countries that allowed you to select missions and gather resources — the X-COM franchise birthed new life into strategy gaming.
Three decades later and following a successful Kickstarter campaign, Gollop is still at it this time with Phoenix Point. Considered as a spiritual successor to the classic X-COM titles, Phoenix Point combines familiar gameplay mechanics with new twists. Phoenix Point will still have its world map and selectable missions as well as tactical, turn-based combat. But, refreshing mechanics might ensure a lot of replayability and unique quirks.
For instance, you command Phoenix Point, a lone base facing off against the threat of the Pandoravirus. The victims of the Pandoravirus have warped living beings into a mish-mash of creatures, mutating them into deranged beasts and monsters. Due to the mutating strain, it's possible to encounter various enemy unit types depending on the mission's region or the enemy's behavior.
In Phoenix Point, you're also able to ally and compete against three AI factions. These factions will have their own techs and secrets to stop the Pandoravirus, leading to certain changes to the campaign and the ending. However, since you can ally with only one of these factions, you might want to replay the game to see different changes.
Phoenix Point also has several short stories to fully flesh-out the lore and narrative behind the game. Still, it's worth noting that Gollop's project has undergone a number of delays, and even a controversial timed-exclusivity with Epic. This week, we'll finally see if Phoenix Point was worth the wait.
Darksiders Genesis
Release Date: December 5
Developer: Airship Syndicate
Publisher: THQ Nordic
Store: Steam
Many video game franchises tend to stick to a winning formula. Then, there are times when you'd see a franchise creating a spinoff that belongs in an entirely different genre. That's what we'll see once Darksiders Genesis releases this week.
The first three Darksiders titles were all action games played from a third-person perspective. Darksiders Genesis, however, significantly changes its style as it's an action-RPG with a top-down isometric view. Think Diablo, but with Darksiders' lore and characters.
The new protagonist is Strife, the fourth and final Horseman of the Apocalypse. Joining Strife in Darksiders Genesis is none other than War, the playable character from the first game. You can swap between the two characters in single-player mode. Alternatively, a friend can also join you for some two-player co-op hacking and slashing.
Other Content Drops this week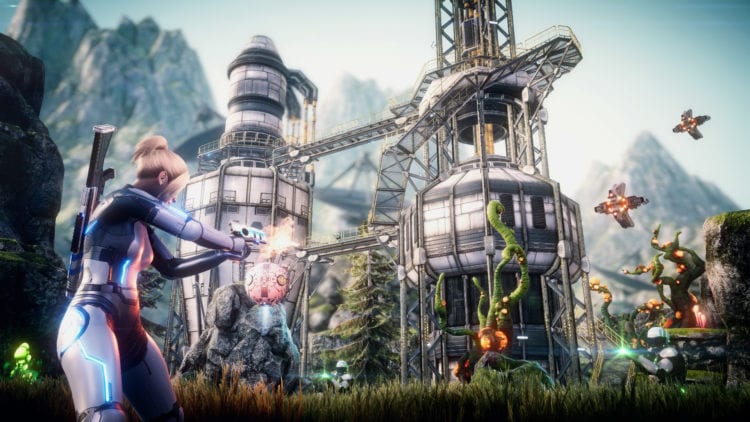 SaGa: Scarlet Grace Ambitions (December 3) – Romancing SaGa 3 and SaGa Scarlet Grace: Ambitions arrive for PC players in the west. The former released last month and Scarlet Grace follows suit this week. Find it on Steam.
Life is Strange 2 – Episode 5 (December 3) – The final episode which concludes the story of two brothers. Find it on Steam.
Arise: A Simple Story (December 3) – An artsy co-op adventure game where you can control the flow of time. Find it on Epic. You can also check out Steven Wong's review.
EarthNight (December 3) – A 2D platformer set during a dragon apocalypse feels like a love letter to arcade games of yore. Find it on Steam.
Everreach: Project Eden (December 4) – This title (seen above) is a futuristic sci-fi RPG made by former Mass Effect team members. Everreach: Project Eden might be a little bit on the short side, however, as the story is only expected to last eight hours. Find it on Steam.
Mosaic (December 5) – The monotony and depression of the modern, urban lifestyle will be featured in Mosaic. Find it on Steam.
Paranoia: Happiness is Mandatory (December 5) – A game inspired by CRPGs of yore, Paranoia: Happiness is Mandatory (seen below) puts you in the role of a team of "Troubleshooters" keeping the peace in a dystopian society controlled by the Friend Computer. The game has been delayed a couple of times already, so, hopefully, it finally launches this week. Find it on Epic.
Next week's Content Drops
Next week's Content Drops and PC game releases will have MechWarrior 5: Mercenaries, Detroit: Become Human, Shovel Knight Shodown, Shovel Knight: King of Cards, and Boneworks. Additionally, Vampire the Masquerade – Coteries of New York was supposed to come out in a couple of days, but it's been delayed until next week. We'll also see Path of Exile's Conquerors of the Atlas expansion and the Metamorph challenge league as well as Destiny 2's Season of Dawn DLC.
---
Note: All release dates are for North America.