This week's Content Drop will feature a number of new PC game releases such as Rebel Galaxy Outlaw, Senran Kagura Peach Ball, and Ion Fury. Oh, and Warhammer: Vermintide 2 will also get a new content drop by way of the Winds of Magic expansion.
For the other games that'll be coming out this August 2019, check out the monthly PC game releases listing. As for the rest of the games launching this year and beyond, you can view our updated release dates list.
Rebel Galaxy Outlaw
Release Date: Aug. 13
Developer: Double Damage
Publisher: Double Damage
Store: Epic
Last week's Content Drop featured a space shooter game called Subdivision Infinity DX. This time around, we'll also see another addition to the genre — Rebel Galaxy Outlaw. The original Rebel Galaxy released back in 2015, and Outlaw will serve as a prequel in terms of the narrative.
In Rebel Galaxy Outlaw, you'll take control of Juno Markev, a pilot who's down on her luck and looking to hunt down a killer. Unfortunately, the life of a space privateer wasn't going so well and you'll need to rebuild from scratch if you hope to make it out of the Dodge Sector. That's where trading comes in. The trading feature in Rebel Galaxy Outlaw allows you to find scrap, weaponry, and more to barter for the actual equipment that you need for your ship.
Do note that this is just one facet of the game. The core gameplay mechanic will always be the dogfights — lots of them. Rebel Galaxy Outlaw will have you zipping through the cosmos, dodging laser fire, and firing beams and rockets as you take down your foes. Oh, and much like the original, it'll also have a killer soundtrack to accompany the experience. Be sure to check out our review soon.
Warhammer: Vermintide 2 – Winds of Magic
Release Date: Aug. 13
Developer: Fatshark
Publisher: Fatshark
Store: Steam
Releasing on the same day is none other than Warhammer: Vermintide 2's first actual expansion, Winds of Magic. While it's true that we've seen a couple of DLC in the past — such as Shadows over Bogenhafen and Back to Ubersreik — Winds of Magic will be the first time that Vermintide 2's mechanics are further explored and expanded on outside of new maps.
The "Ubersreik Five" (or four, doesn't matter) had set out to accomplish their tasks to defend Helmgart against the advancing hordes of Skaven and the Norscan devotees of Papa Nurgle. Now, in Vermintide 2 – Winds of Magic, they'll have to face a new threat in the form of Beastmen brayherds. Deep in the Reikwald Forest, the font of power known as a Herdstone calls to thousands of these deranged humanoid creatures, and it's up to our heroes to stop them.
Warhammer: Vermintide 2 – Winds of Magic will not only have you facing new foes, but you'll also have a new level cap (from level 30 to 35). Your new level cap will also grant a set of skills/talents to choose from for your subclass. For instance, one of Saltzpyre's perks for his Bounty Hunter class resets the cooldown of another skill for every 25 enemies killed.
Warhammer: Vermintide 2 – Winds of Magic also adds one new weapon for each of the heroes, as well as a game mode that'll have a mish-mash of maps, challenges, and finales for your team. The toughest difficulty option from the first game, Cataclysm, will also make its return. Be sure to check out our review soon.
More Content Drops this week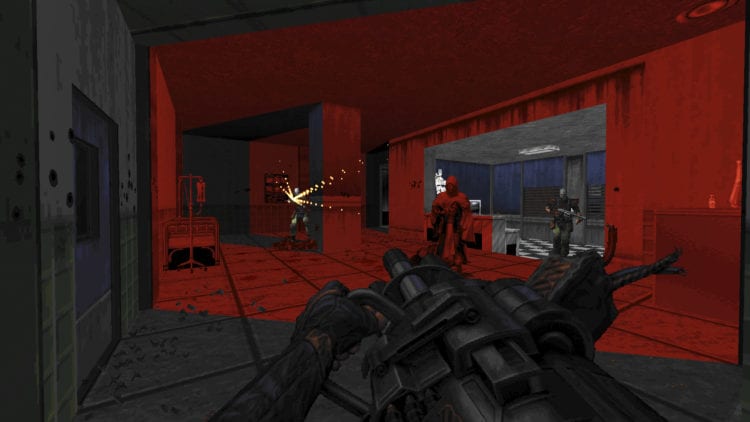 Senran Kagura Peach Ball (Aug. 14): Part pinball game and part (well, mostly) anime entertainment. You'll be bouncing balls among other things, that's for sure. You can find it on Steam.
Ion Fury (Aug. 15): Previously known as Ion Maiden, the game (image seen above) has been renamed to Ion Fury to avoid legal disputes with the legendary rock band Iron Maiden. It's a retro-inspired FPS that's considered as the spiritual successor to Duke Nukem 3D. This Steam Early Access title will officially launch this week.
Next week's Content Drops
Next week's Content Drop will feature a handful of additions such as action co-op game Remnant: From the Ashes, the roguelike adventure RAD, and roleplaying game Oninaki. We'll see you then.
---
Note: All release dates are for North America.