Gamescom kicked off today with the Opening Night Live digital event, which offered preview after preview for hot upcoming games. The recent sensation Fall Guys: Ultimate Knockout was in the lineup and featured a sneak peek at the additions for Season 2. The lead gameplay designer introduced himself and spoke briefly about Mediatonic's excitement over the game's overnight success. He then went on to detail what players can expect for Fall Guys Season 2 content.
A medieval theme will define content for Season 2, with new stages and cosmetics inspired by the European Middle Ages. The developer also revealed that Season 2 will begin sometime in the month of October. The exact start date is still unknown, however Mediatonic promised to keep fans informed via the official Fall Guys Twitter.
Fall Guys launched August 4 and took the world by storm with its adorable jellybean characters and their crazy antics. Fall Guys plays like a party game and certainly bears resemblances to the crash-course television shows that used to populate television. It allows up to 60 players to compete for survival and race to the finish in various modes, with plenty of physics mechanics as an added twist. On the surface it appears as a children's game, but Fall Guys can become quite competitive for those who master the speedrun metas. However, it can also be a bit random at times, which may frustrate some players. We noted all of this in our review if you're still on the fence about getting it.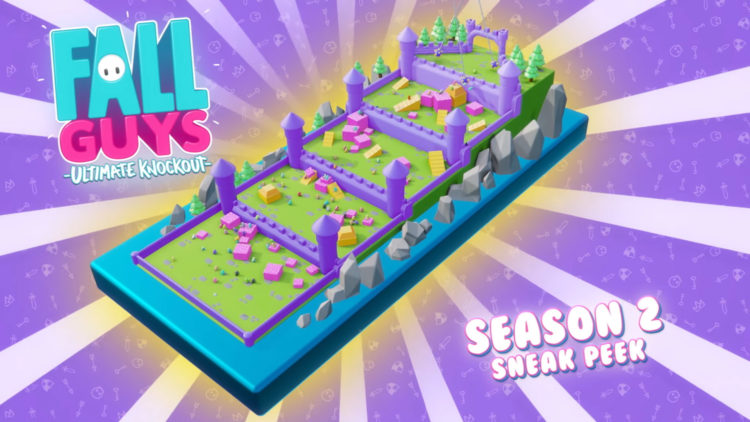 The glorious age of the jelly bean
Fall Guys Season 2 seeks to expand on everything that players love with plenty of new skins and levels. As previously mentioned, the medieval theme defines Season 2. The sneak peek video revealed wizards, dragons, vickings, and various knights that players can suit up as. There are sure to be more options coming too, as the game is loaded with different appearances. We also had a peak at three new stages, which resemble fortresses and explore other medieval themes. It looks like the creativity is just getting started too, because there are some pretty wacky layouts in some of the new stages.
Speaking of which, you can check out our Fall Guys Guides Hub for tips in tricks on how to win the crown. Be sure to check back for more guides once the new stages become available, too. Fall Guys is available on Steam for $19.99 USD.