It's been a while since we've last checked out Wasteland 3 from inXile Entertainment. Although the studio is busy with new projects, including a first-person RPG that's touted as having "mind-blowing visuals," that doesn't mean the game set in the frozen wilderness of Colorado gets left by the wayside. Indeed, Wasteland 3's upcoming patch 1.3.3 will have additional features such as permadeath, respec options, harder skill checks, and more.
Two of these options, permadeath and harder skill checks, can be enabled once you start a new game. You'd go to the "Select Difficulty" window to toggle these, along with the friendly fire mechanic.
Wasteland 3: Patch 1.3.3's permadeath, respec options, and harder skill checks
Permadeath in Wasteland 3 is definitely something that hardcore players want. Once the option is enabled prior to starting the campaign, you won't be able to toggle it off. That means you should be extra careful when fighting baddies (I can almost hear the screams from people once their characters die in The Warrens). Before, downed Rangers can be revived within a limited number of turns. Even if you failed, they can be brought back via a Nitro Spike or a visit to the doctor. Now, if you can't get them back on their feet, they're completely done for. You won't be able to interact with them since permadeath removes their portrait from the HUD, though all their gear will go back to the party's shared inventory.
If permadeath wasn't enough to make you flex your chops, then Wasteland 3's patch 1.3.3 lets you enable harder skill checks. Funnily enough, this was actually one of the minor criticisms I had when I initially reviewed the game last August. I genuinely felt that the challenge became moot due to having a squad of six Rangers and a revolving door of new recruits.
As such, the harder skill checks option in Wasteland 3's patch 1.3.3 ensures that you really focus on how you build your Rangers. A "jack-of-all-trades" type of character might seem next to useless since you have to fully specialize in particular actions and facets of the game.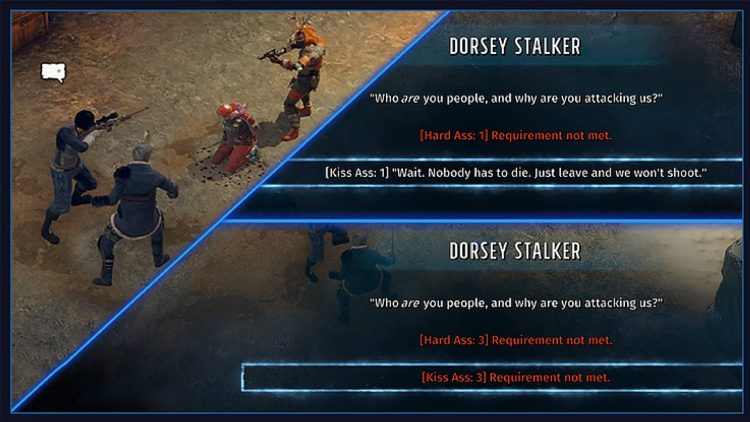 Speaking of skills and builds, patch 1.3.3 will let you respec your Rangers in Wasteland 3. This can only be done in the Ranger HQ via the "Manage Squad" panel. You'll get two freebies when it comes to recruits and respeccing. But, everything else will have a cost that increases across the entire squad, not just per character. In fact, the respec option increases by 1.75 times whenever it's used, and the cost goes up to a maximum of $3,000. Lastly, the update will also bring 23 new additions to character customization (more tats and hats).
Don't worry since we don't have to wait that long. Wasteland 3's patch 1.3.3 update will arrive sometime next month along with the patch notes. For now, you can check out our full campaign walkthrough as well as our guides and features hub.