There's a new event in Genshin Impact called Lunar Realm. It's actually related to the new fishing system, with a backstory involving a legendary creature. You'll tackle (pun intended) several challenges in each successive day to earn several rewards. Here's our guide to help you with the Lunar Realm event, the Lunar Leviathan, and the Moonstringer reward in Genshin Impact.
Note: For more information about the game, check out our Genshin Impact guides and features hub, as well as our version 2.1 overview. Likewise, you can take a look at our main guide on the game's new fishing mechanics.
Genshin Impact Lunar Realm event guide – The Lunar Leviathan, daily challenges, and Moonstringer reward
To start the Lunar Realm event in Genshin Impact, you'll first need to meet the following requirements:
If you meet these requirements, go to the marked location north of Inazuma City. There, you'll meet Kujirai Momiji. This lady is actually the same person who's selling The Catch polearm and its refinement material. She tells you about the Lunar Leviathan, a legendary creature that every Fishing Association seems to be looking for. Next, you'll travel to Liyue Harbor to speak with a man named Jiawei (the Fishing Association NPC there).
When you're done, the Lunar Realm event in Genshin Impact should be available to you. Simply open the event panel, take a look at the challenges, and fast travel to the marked locations.
Note: Genshin Impact's Lunar Realm event runs from September 10 to September 20. There are seven challenges in total that will go live every daily reset.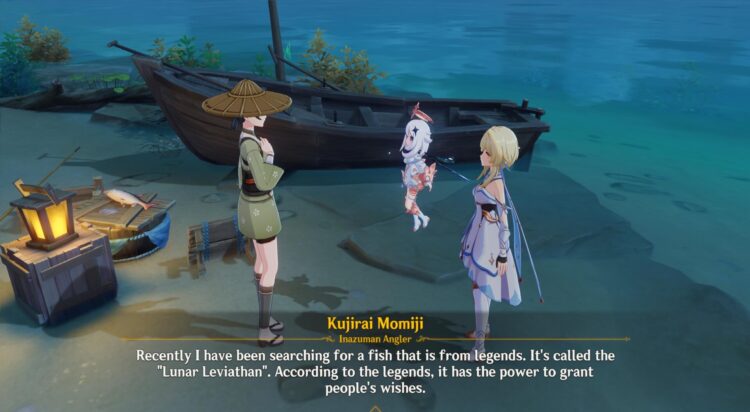 How to complete the Lunar Realm challenges
Your tasks in the Lunar Realm challenge follow the same mechanics as though you're just normally fishing. The difference here is that there's a time limit. Likewise, you need to catch as many types of fish that are required within the allotted time. Here are some examples:
Challenge #1: Master of the Bait-and-Fish – Catch 2/3/5 Sweetflower Medaka within 120 seconds.
Challenge #2: Lean Mean Fishing Machine – Catch 2/4/6 fish of any kind within 180 seconds.
The first few challenges should be easy enough, and the timers are generous. You can expect things to get tougher later. For instance, you might need to replace the bait that you're using. Also, perhaps one issue you may face is if you toss the bait right on top of a fish, which would scare them away. This wastes a few seconds.
The Moonstringer and other rewards
Each Lunar Realm challenge in Genshin Impact hands you rewards based on the number of fish that you've acquired within a single attempt:
Lowest required number – 60x primogems, 30,000x mora, and 3x hero's wit.
Middle ground – 30,000x mora and 4x sanctifying unction.
Highest required number – 6x mystic enhancement ore.
The main reward, however, is a fishing pole called the Moonstringer. According to the item's description, it will shorten the time that the fish will attempt to struggle as long as you're within the ideal tension zone. If you leave the ideal tension zone, this effect is reset. The description also suggests that it's something that we'll use for the Lunar Leviathan. We've yet to encounter it, so we'll let you know more in the coming days.
---
Genshin Impact is available via its official website. For more information, check out our guides and features hub.