Genshin Impact's version 1.4 update, the "Invitation of Windblume," was announced just over a week ago. It's now live, and the update brings a lot of new events and content for players. Here's our guide/primer on what you can expect.
Note: For more information about the game, check out our Genshin Impact guides and features hub.
Genshin Impact: New events and content in version 1.4/"Invitation of Windblume"
The Venti banner rerun (March 17 to April 6)
Perhaps one thing that long-time players are looking forward to in Genshin Impact's version 1.4 update is the Venti banner rerun. The Anemo bard and vessel of Barbatos was the featured 5-star character when the game originally launched in September 2020. Indeed, many players might have missed out on him when he was first introduced. Now, the Venti banner rerun should provide an opportunity for those who want to try their luck when it comes to wishes/gacha microtransactions.
Note: If you'd like to make the most out of Venti as a support teammate, you can take a look at our character guide.
Tartaglia and Rosaria (after the Venti banner)
Childe/Tartaglia is a member of the Fatui and he happens to be a weekly boss. Not only that, he's also someone who can join your roster if you're lucky enough with your gacha pulls. Originally introduced back in November 2020, Tartaglia will make a return as a featured 5-star character after Venti's banner has expired.
Moreover, one of the characters expected to be part of that banner is Rosaria. She first appeared in "The Chalk Prince and the Dragon" storyline in version 1.2. This 4-star Cryo combatant can be obtained soon enough.
Note: For now, you can check our Childe/Tartaglia character guide.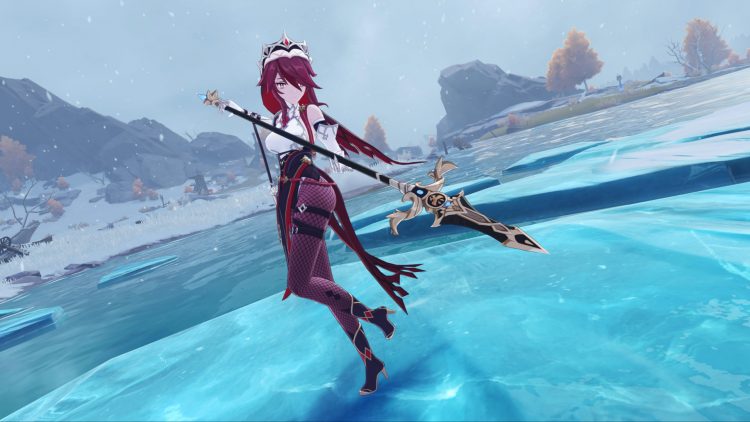 Elegy for the End and other new weapons (March 17 to April 6)
Speaking of wishes, the new "Epitome Invocation" wish features a 5-star bow called Elegy for the End. It seems to be a decent weapon due to the elemental mastery and ATK-increasing proc. However, it's still too early to tell. Likewise, if you have decent bows already, then you could pass on this and save your primogems and/or cash.
Hangout Events (permanent feature)
Hangout Events let you chill and explore with various characters in Genshin Impact. It's akin to a visual novel or, dare I say it, a dating sim. Certain dialogue choices and actions can lead to branching paths, multiple endings, and even faillure.
Note: You can head to our main guide for Hangout Events.
The Invitation of Windblume and Windblume Festival (March 19 to April 5)
The Invitation of Windblume, or Mondstadt's Windblume Festival, is the premier event in Genshin Impact's 1.4 update. It has the following features:
Festive Anecdotes – These are acts/phases that you'll progress through while the Invitation of Windblume event is ongoing.
Festive Challenges – These include Bullseye Balloons, Floral Freefall, and Ballads of Breeze activities. Although these can be done solo or co-op, it's only in single-player mode where you'll acquire Festive Tour Tickets.
Peculiar Wonderland – This has several challenges for you to undertake. You'll get primogems, talent materials, and Peculiar Collab Coupons as rewards.
Note 1: A key reward here is the 4-star Windblume Ode bow. Like the Festering Desire sword, the Windblume Ode bow will have a boost to its EXP gains while the event is running.
Note 2: Although Genshin Impact's Invitation of Windblume/Windblume Festival only lasts until April 5, the event shop will be around until April 12. We'll have more guides for you in the coming days.
Update: The event is now live. You can take a look at our main guide for the Windblume Festival, as well as our Peculiar Wonderland guide and Windblume Ode bow mini-guide.
A new Archon Quest and the Abyss Herald – Wicked Torrents (after the Windblume Festival)
After the Invitation of Windblume event shop has closed down, Genshin Impact's players will be treated to a new Archon Quest. The continuation of the main storyline will lead to a battle against the Abyss Herald – Wicked Torrents. This deadly foe even has abilities that can increase the cooldown of character skills.
Note: Although the Abyss Herald is considered an elite enemy, it only appears during the Archon Quest.
Outland Gastronomy (login event) and Wanmin Welcome (March 16 to 25)
Outland Gastronomy is a 7-day login "mini-event" with rewards that you can pick up. Meanwhile, Wanmin Welcome is a "web event." You can view the rules and enter via miHoYo's event page.
Extra tweaks
Among the many tweaks and fixes in Genshin Impact's version 1.4 update, there's one tidbit that's related to Condensed Resin. Players can now hold up to five of these at any given time. Sadly, it seems miHoYo didn't address the actual issues such as the slow resin recharge rate and stingy EXP/gold rewards.
Speaking of gold, players who've reached Adventure Rank 60 can now earn 10 mora/gold per point of Adventure Rank EXP. It goes without saying that this change doesn't really make a lot of sense given that the vast majority of Genshin Impact players haven't reached that point yet (only those who've excessively farmed to no end will gain the benefits). Owing to the tedious grind, it's as though this improvement doesn't really tackle what can help a larger portion of the player base.
In any case, the full patch notes should tell you about all the changes that are part of Genshin Impact's version 1.4 update/Invitation of Windblume.
---
Genshin Impact is available via its official website. For more information, check out our guides and features hub.