Destiny 2's newest season — the Season of Arrivals — is finally live. Players will have to prepare for the Darkness as Pyramid Ships loom over Io, grab several Umbral Engrams, and enter the Prophecy dungeon in the Realm of the IX. How does it stack up compared to previous Destiny 2 seasons and DLCs? Well, let's find out in our official review.
Note: For more information, head over to our Destiny 2: Season of Arrivals guides and features hub.
Destiny 2: Season of Arrivals – The story so far
Destiny 2's Season of Arrivals is the culmination of a story that began when Shadowkeep released in October 2019. Back then, your adventures led to the discovery of the Pyramid Ships, the encroaching forces of the Witch Queen Savathun. It was also when the broken Guardian Eris Morn found out a means of drawing power from the Darkness. Or, perhaps, she's just being manipulated?
Whatever the case may be, that's how the story ended almost nine months ago. What followed were arcs that sidetracked us completely such as the Season of Dawn's revival of Osiris and the ridiculously bad Season of the Worthy. In fact, watching the opening cinematic of Season of Arrivals makes you realize just how much of an afterthought your previous efforts were.
Remember when nine million players needed to complete the Seraph Towers events for the Felwinter's Lie quest? The in-universe explanation is that it's to power-up Rasputin. Then, just this past weekend, we saw how Rasputin blew up the Almighty from the sky. All of that effort and what we simply got today was a scene of the Pyramid Ships bypassing Rasputin's defenses and Ana Bray experiencing a power outage. So long, Warmind waste of time.
Destiny 2's Season of the Worthy, narrative-wise, led us nowhere. At the very least, it looks like Season of Arrivals will finally move the story forward.
The Darkness is here, and it's coming for you
After the cinematic, you're taken straight to Io where one of the Pyramid Ships is floating. Surprise, you'll spot a whole bunch of them (called Pyramid Scales or "Pyraminis") spawning in the atmosphere.
Next up, you'll fight your way past the Taken until you reach the White Tree of Gondor, err, the Tree of Silver Wings.
You'll get teleported to Savathun's Court, a grim Taken dimension (likely Savathun's Throneworld) where you'll do battle against her minions. After a lot of shooting, you'll meet up with Eris and obtain this season's artifact, the Seed of Silver Wings.
From there, you'll get another cutscene in the Tower. Zavala and Eris start to bicker, then you'll speak to the Drifter to find out about how to "contain the Darkness." Oh, looks like you're banking motes, sister, I promise!
Contact: The Gambit public event
Contact is one of the new activities in Destiny 2's Season of Arrivals. It takes place on Io (and likely on other destinations in the coming weeks). Think of it as Gambit, except that it's a public event. There's a Pyramid Scale floating nearby which allows you to start the event proper. This will be followed by waves of Cabal or Vex trying to kill you… so, as Variks says, kill them back.
Pick up the motes they drop, bank 'em, get paid. Or, rather, get ambushed by additional Taken that will act as blockers. As long as they're around, players won't be able to bank motes.
There are additional mechanics, sure, and it's also a lot easier than Season of the Worthy's Seraph Towers — everything just spawns around you to get killed, no "ball-throwing" mechanics (or anything that prevents those orbs from popping up). However, it's still a public event. There's no matchmaking, so good luck if you somehow can't find people in your instance.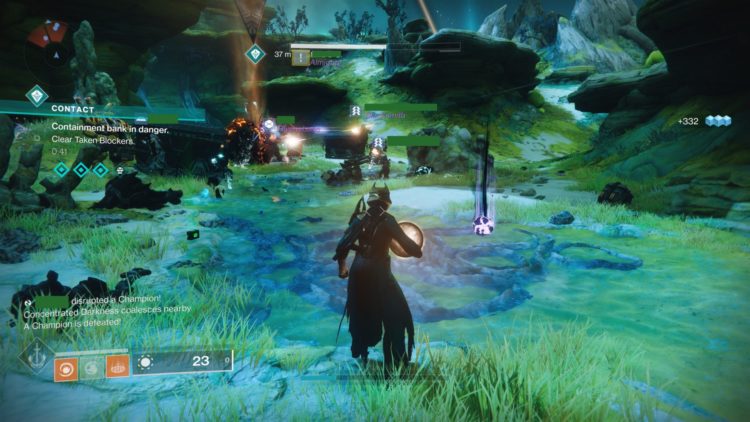 Umbral Engrams and the Prismatic Recaster
The new rewards from the Contact public event and other activities in Destiny 2's Season of Arrivals are the Umbral Engrams (you can see one of the drops in the image above). Unlike the various engrams that get decrypted into random stuff, Umbral Engrams allow you to have more control over the, well, still random stuff that you get.
The Prismatic Recaster, a tool right next to the Drifter, allows you to choose a type of "focus" for the Umbral Engram. It's possible to get drops from past Shadowkeep seasons, those from Gambit, and the like. Higher tiers of these Umbral Engrams let you select from a smaller loot pool if you truly want a specific roll. My main gripe here is that, much like previous Destiny 2 seasons, only a select few weapons feel like they could ever compare to or eclipse the mainstays of your loadout. For instance, there's Martyr's Retribution and Gnawing Hunger, sure, but I doubt anyone's going for Breachlight or Bad Omens (even the Drifter already sells the best roll for the latter).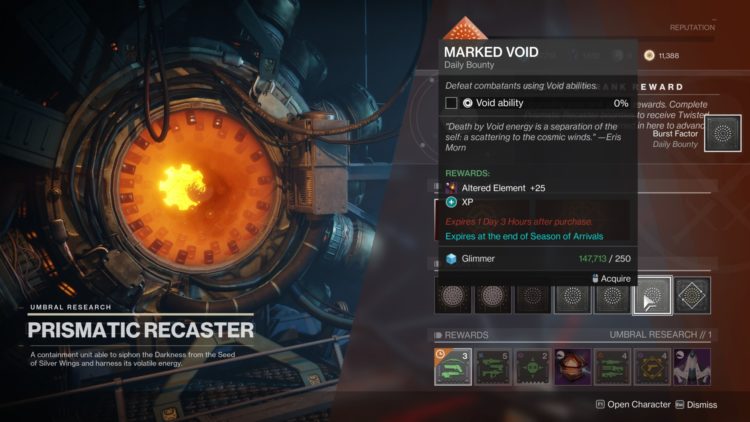 The Prismatic Recaster also has other rewards such as mods and you can pick up additional bounties that give you resources to pick higher-tier Umbral Engrams or upgrade the machine itself. Upgrading lets you select new perks like additional Umbral Engram drops, destination materials, cost reduction, and more.
Does that sound good? Well, not quite, because it's Season of the Worthy's Seraph Bunker upgrades all over again. On the flip side, you'll have more control over the drops that you want (which is always a good thing in any looter-shooter).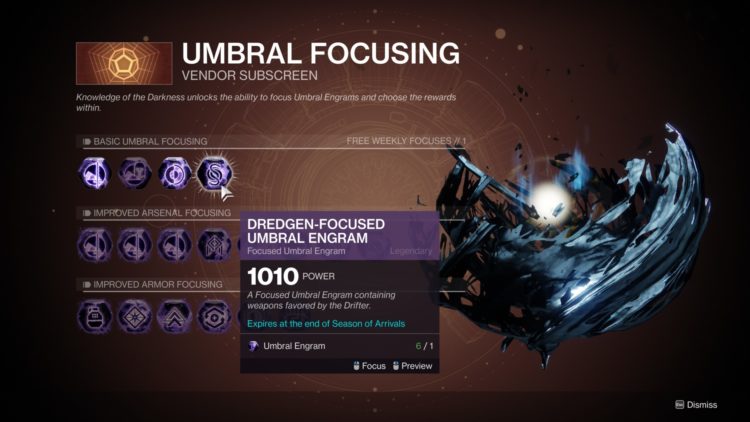 The Prophecy Dungeon
Destiny 2: Season of Arrival's new dungeon, the Prophecy, will take players to the Realm of the IX, tentacle-faced Xur's weirdly warped world. You can see a video below:
I'll be tackling this activity in a while since it won't go live until 5 p.m. Pacific. I'll try to see just how engaging it is, and if it's something that's doable as an introductory activity for the first day of the season's launch.
As mentioned, the review will be updated later on with these findings as well as the final score. For now, you could check out the content drop calendar for Destiny 2: Season of Arrivals:
The continuation
Moving on from where we left off, I was able to clear The Prophecy dungeon within the first 24 hours. You could check out our Prophecy dungeon guide if you need help with bosses and encounters.
I must say that it's one of the most psychedelic and trippy locations ever introduced in Destiny 2. There were moments when I couldn't help but feel that I was living in the movie worlds of Tron and Cube. The Prophecy dungeon is, without a doubt, a dazzling triumph of design, and kudos to Bungie's art direction team for coming up with intricate encounter mechanics and memorable areas.
Having said that, one must also remember just what else we have left for the Season of Arrivals. There's a good chance that there will be a secret exotic quest, sure, but the announced content leaves little to the imagination. As you can see in the content drop calendar earlier, we're only guaranteed the Moments of Triumph and Solstice of Heroes events. If we go by the prior iterations of these events from 2018 and 2019, then we're mostly looking at "run of the mill, complete your tallies" activities that have become Destiny 2's calling card.
Destiny 2: Season of Arrivals review – The final verdict
Destiny 2: Shadowkeep started with so much promise. We saw the Vex invade the Moon and Eris' dealings with the Darkness. Unfortunately, we've been sidetracked for many months just playing whack-a-mole with various Cabal forces, making the middle part of the expansion as bland as it could be.
Thankfully, the Season of Arrivals manages to pick things up thanks to the addition of Umbral Engrams focusing and the mesmerizing Prophecy dungeon. Likewise, the game's story shines, funnily enough, whenever the Darkness and cosmic horror become the narrative's cornerstones. Barring the Shadowkeep/Season of the Undying combo, the Season of Arrivals is the best one we've had for Year 3. Then again, that's also not saying much given the competition. True, this is a step in the right direction, but that's also primarily due to egregious mistakes in previous months.
In the end, these were still not enough for me to say that the entire year of Shadowkeep is ending on a high note owing to a lack of additional content. Perhaps it might be time for Bungie to reevaluate just how content is added and how player progression is addressed. With concepts like weapon sunsetting and the Destiny Content Vault in the upcoming Beyond Light expansion — aka. retiring top-tier items and content respectively — one cannot help but worry what the future holds for the game.
---
Destiny 2: Season of Arrivals is available on Steam. For more information, check out our guides and features hub.